WHAT TESTS DO U-POWER SAFETY SHOES HAVE TO PASS?
THE TESTS TO CERTIFY SAFETY SHOES
Safety tests for safety shoes
A safety shoe must protect the foot of the wearer from impacts and also, as far as possible, accidents like slipping or electrocution. To guarantee these features, tests must be carried out which are laid down by international laws and regulations and performed in specialised laboratories.
U-Power relies on three accredited bodies, CIMAC, RICOTEST and CTC, to carry out the tests on all its safety footwear which we will discuss in this article.
As a result, U-Power offers professionals working in the field, in all sectors, work shoes with all-round safety.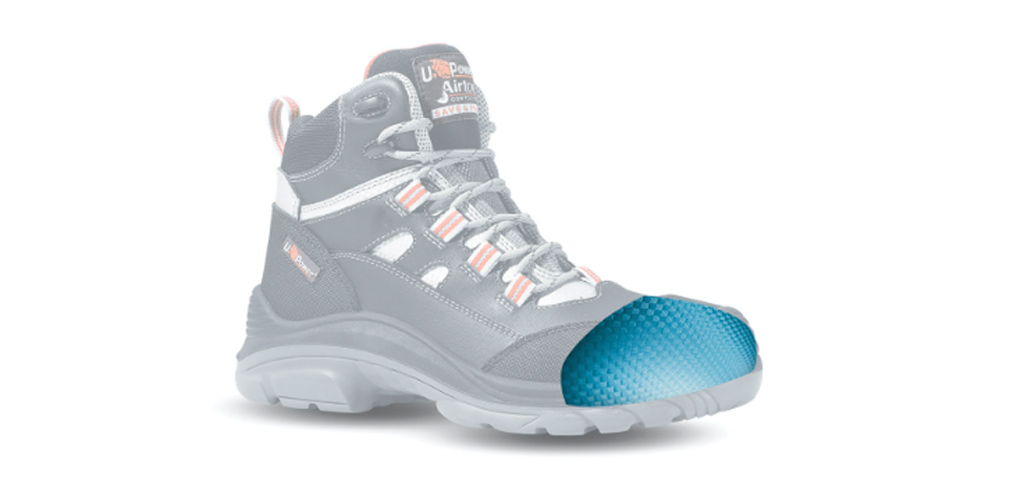 There are four tests that safety shoes must successfully pass before being sold by U-Power: the impact on the toe cap, the compression of the toe cap, the slip resistance test and dissipation capacity.
The first two are required to guarantee that the metal toe cap inserted in a safety shoe is capable of protecting the foot both in the event of an impact, such as a weight falling on the shoe, and gradual compression under a press. The third one, on the other hand, guarantees that the sole does not lose its grip on slippery surfaces which are sometimes encountered in the workplace.
Lastly, the test on the dissipation capacity concerns the anti-static property of the shoes and so, does not risk causing sparks which could lead to a variety of risks, including electrocution or a fire hazard.
Let's look at a closer look at the different tests.
The metal toe cap of the work shoe serves to protect the foot and, therefore, must guarantee that when it bends, due to an impact or gradual crushing, it does not deform to the extent that it hits the foot.
Consequently, the impact and gradual compression tests are considered to be successfully passed if, after being crushed, there is at least a 21 mm gap between the foot and the bare toecap (i.e. not inserted in the shoe) that will be fitted in a size 42 shoe.
In the impact test on the toecap, a 20-kg weight is dropped from a height of 1 metre, while in the crush test a force of 15,000 Newton (i.e. a weight of almost 1,500 kg) is gradually applied. In both cases, as previously stated, the gap that remains free for the foot is then measured after the toecap is bent.
The same tests are then repeated on the complete safety shoe and, at this point, the gap left for the foot must be at least 14 mm.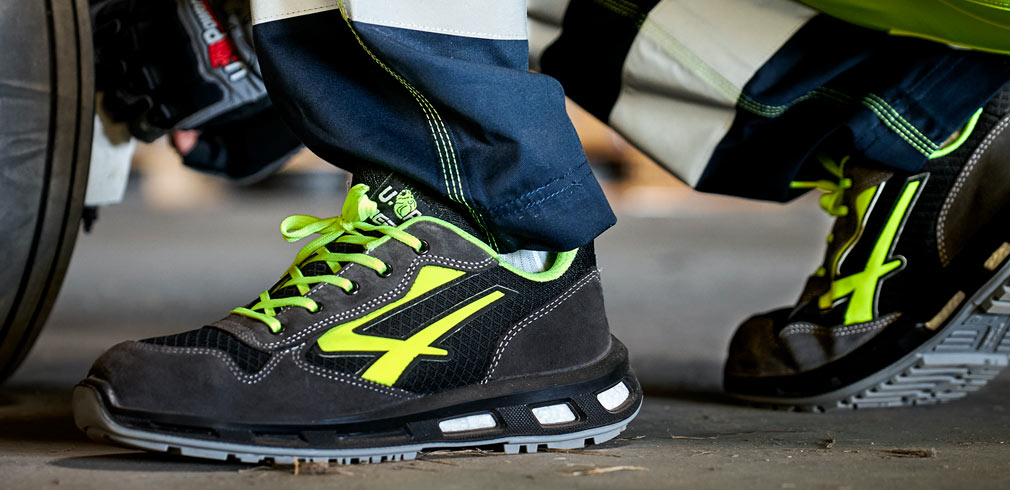 How often do workers indoors or outdoors find themselves on a slippery surface? In these situations, they need work shoes with soles that are stable and non-slip to prevent them from getting hurt.
There is a specific test that U-Power has its specialised laboratories carry out to ensure that our shoes will not slip even in challenging conditions. This is how it is performed.
Two test surfaces are prepared, one made of ceramic wetted with a floor cleaner and another made of steel sprinkled with glycerine. In both these cases, the shoe must not slip, especially on the heel, and the test is carried out both on flat surfaces and with a 7-degree gradient, for greater safety.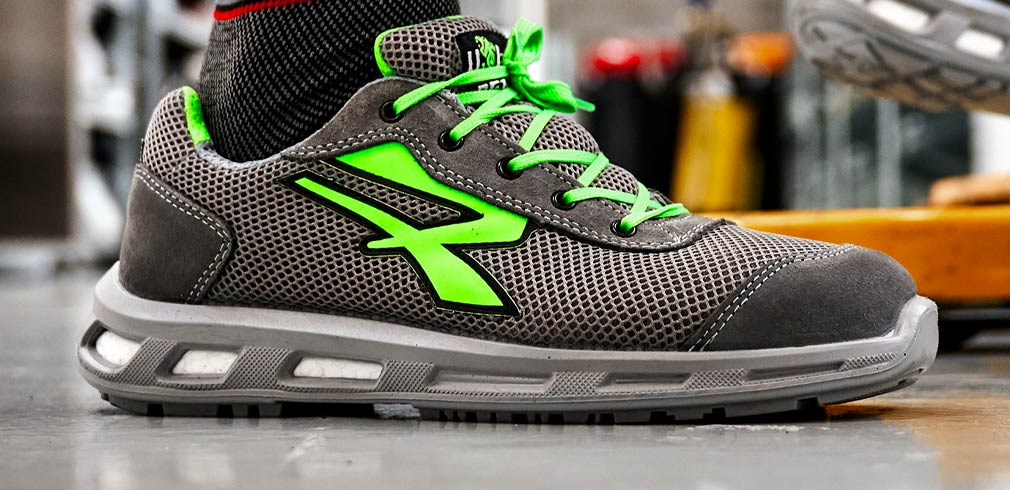 A work shoe must not generate sparks when it rubs against any surface under any conditions. This is necessary to prevent serious hazards such as electrocution and gas fires and more generally speaking, it will not risk damaging electrical or electronic circuits with a spark generated by our footwear.
It is said, therefore, that the sole of our safety footwear must be anti-static and thus, not build up electrical charges on it. To ensure this property applies to the entire shoe and not just the sole, the testing laboratories, appointed by U-Power, measure the electrical resistance of all the parts of our safety footwear and check that they fall between 100,000 and 1 billion Ohm.
There is, of course, an international standard governing anti-static footwear which has laid down these values and the methods for this and all the other tests.
You should also know that here in U-Power we carry out these stress tests on all our ranges of shoes as soon as they are put on the market and we repeat them every five years, as required by the regulations.
Our commitment to your safety is not, however, limited to the compulsory tests on work footwear, we also asked Michele Montagna, who is specialised in the study of human movement, to carry out additional specific tests. In particular, Michele Montagna tested our shoes to find out whether they helped to prevent muscle and back pain based on different types of work, whether more static or active. The results obtained have proved that our safety shoes are not only safe, but also contribute towards reducing fatigue after a day's work and preventing back and muscle pain.
U-Power: your tried and tested work shoes!
Dear reader, we hope you enjoyed the article.
If you want to deepen the subject and want more information, do not hesitate to contact us using the form below. Our technical staff will be happy to answer to your questions as soon as possible.
You ask, U-POWER, answer!