WORK PREVENTION: HOW RELEVANT ARE SAFETY SHOES?
HOW CAN YOU PREVENT MUSCLE AND JOINT PAIN RESULTING FROM WORK?
The concept of prevention in the workplace, intended as anticipation of the worker's potential physical imbalances arising from the tasks performed, has long been underestimated.
Today we know that with the right technology, it is possible to protect the worker from the risk of an accident at work and defend the person from possible short, medium and long-term dysfunctions and muscle-joint problems resulting from the type of work performed.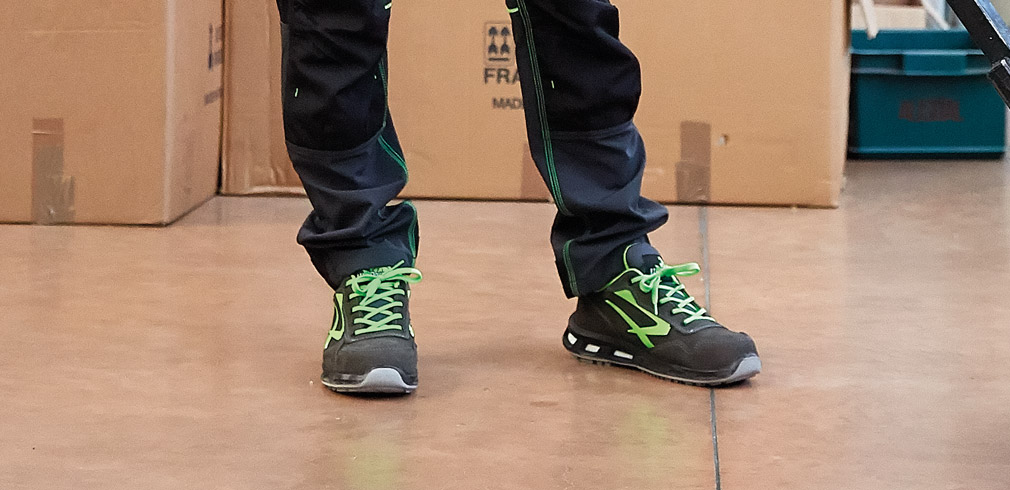 U-POWER aims to ensure safety in the workplace with personal protective devices such as high-tech safety shoes or carefully designed work clothes to guarantee maximum comfort and functionality. But to improve living conditions in a broad sense, reducing the "invisible" risks of physical and health alteration in the short, medium and long term.
It is an ambitious goal that requires research and attention to all technological innovations, constant dedication and a lot of passion.
Using proper safety shoe can reduce the risk of muscle and joint disorders, providing immediate protection against the risk of accident at work, above all, to safeguard the future. We are talking about real investment favouring health protection that improves the person's conditions and quality of life.
Here is why a conscious choice in the purchase of personal protective equipment is essential.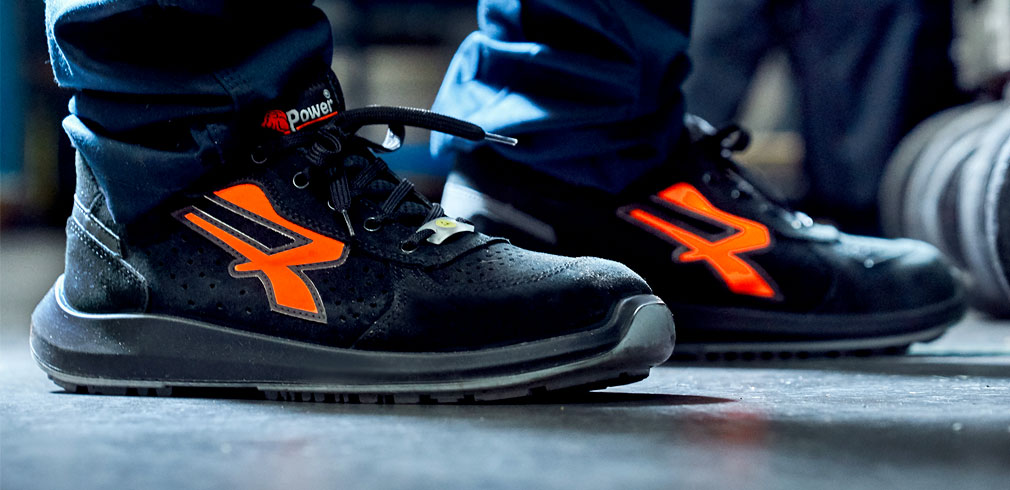 U-POWER has taken a further step forward and has subjected its products to further tests and evaluation by an expert in the field of Ergonomics, Prevention and Treatment of Musculoskeletal Disorders at Work, Dr Michele Montagna.
It is essential to present Dr Michele Montagna better to understand the value of these tests:
✔ Doctor of Sport Sciences;
✔ Kinesiologist UNC N.14307 - National Union of Kinesiologists;
✔ Consultant and Professor in Ergonometry for Work, Prevention and Treatment of DMS (musculoskeletal disorders at work);
✔ Certificate Occupational Health and Safety Trainer (Legislative Decree 81/2008).

The tests carried out by Dr Michele Montagna are based on Kinesiology, which is the study of human movement and Biomechanics, which analyzes physiological structures' behaviour when subjected to static or dynamic stresses.
These tests - not at all obvious or imposed by the European legislation - have allowed U-POWER to reconfirm the quality of its safety shoes and work clothes proposed to its customers.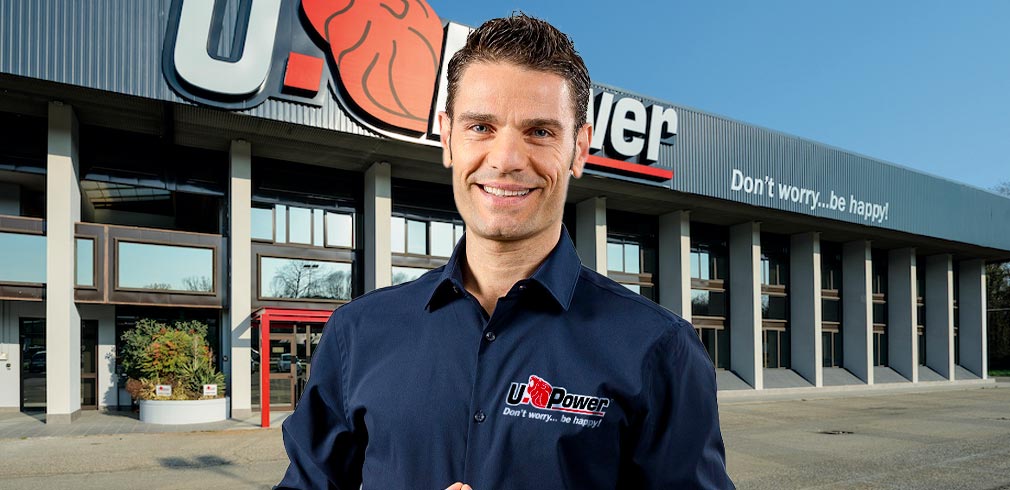 Scientific studies show that it is possible to prevent and treat most of the muscle-joint disorders that occur during working life using footwear that exploits technologies able to reduce and or resolve those imbalances due, among other causes, to the continuous shocks affecting the joints.
The use of the right technology concerning personal working conditions is the first step towards health protection and improved well-being and quality of life.
Not all jobs are the same, and not all professions involve the same risks, the same repetitive postures, dynamic movements or prolonged standing.
Therefore, there is the need to always safeguard the health - of safety shoes with characteristics that accurately respond to peculiar and well-defined requirements.
Let's try to divide the different working situations.
We consider all the professions that involve a large part of the working day in sitting or standing positions without making long or medium distances, such as cooks, pastry chefs, the baker or those who work in assembly lines in the factory, etc.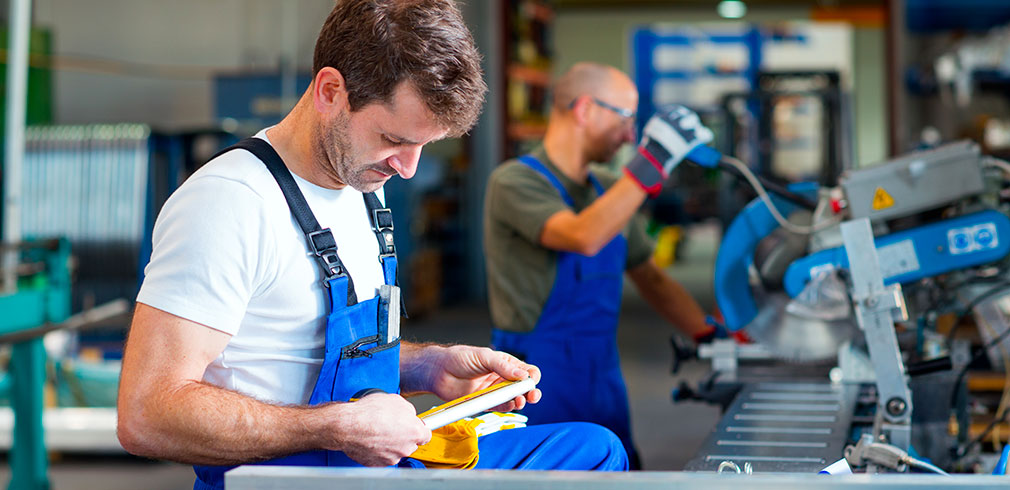 For this category, it will be essential a shoe that best dissipates the tension during the static positions taken to avoid stiffening of the body, a loss of elasticity and freedom of movement over time.
The U-POWER technology that responds to this need is RED CARPET.
The RED CARPET shoes can distribute the wearer's weight by reducing the load coefficient on each square centimetre of the sole, improving the functionality of the whole organism.
What are the benefits?

A significant improvement in muscle contraction and decontraction phases reduces the sense of fatigue of the legs, decreases the incidence of night and daytime cramps, and, thanks to the increasing state of general well-being, leads to augmented concentration and higher productivity.
In this case, professions foresee a large part of the work dynamically. Workers are subject to biomechanical load due to weight shifting, continuous movements, repeated spinal flexions, leg bends, climbing stairs, such as painters, electricians, plumbers, gardeners, etc.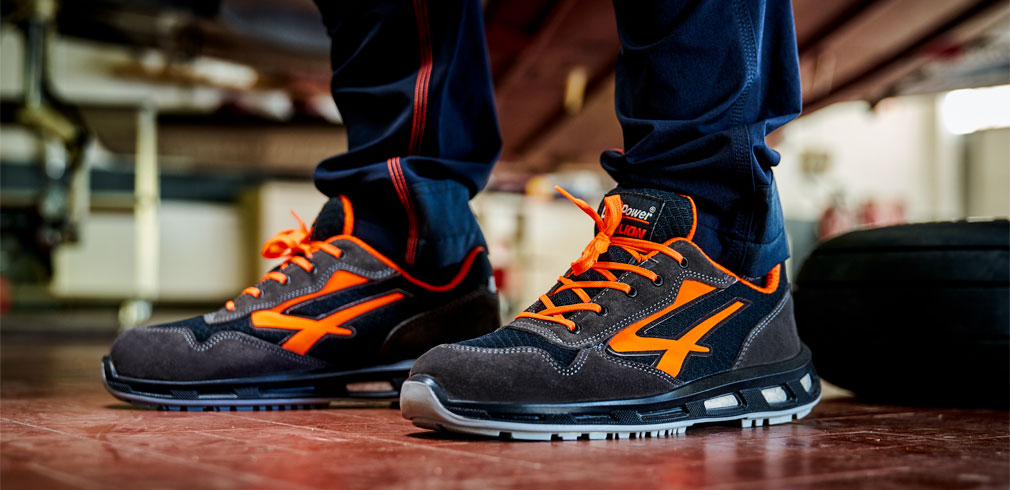 These professionals spend the day in a predominantly dynamic mode, and the risk is that of excessive muscle-joint stress with loads not always perceived but which, over time, can lead to sudden injuries without an apparent specific cause.
The technology that responds to these problems is Infinergy® that U-POWER uses in the RED LION line and the RED OVER high protection line.
Infinergy® can dissipate joint and muscle stress by reducing the metabolic cost of the latter. It is an under heel insert that allows you to store energy at every step that returns during the foot's detachment from the ground. The result is well over 55% more energy with every step!
You will have a lightener pitch, the load on cartilage and articulations dissipated, the sense of general well-being and the legs circulation improved, reducing muscle tension and increasing strength with a significant amelioration in postural disorders.
We refer to professions providing a good part of their day standing but, at the same time, involving long-distances moving, such as in the health sector or the warehouseman or those working in a supermarket, a shopping centre or a mall.
In these cases, the need is for a work shoe that dissipates the joint muscle tension of static positions but, at the same time, accompanies during long journeys, avoiding feeling excessively the distances travelled.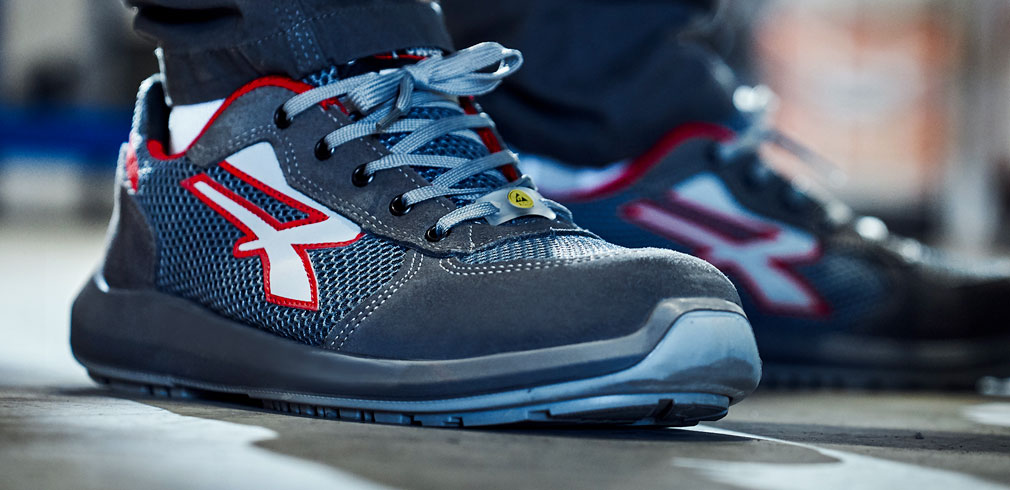 The U-POWER safety footwear lines that respond to this type of need are RED UP and RED UP PLUS with HIGH REBOUND technology (Editor's note. : RED UP PLUS is a combination of HIGH REBOUND and RED CARPET technologies).
Walking is nothing more than a continuous imbalance forward, with a lack of falling towards gravity, thanks to our reaction. The reaction starts when the heel touches the ground, which triggers a chain of physiological responses.
The PU surface absorbs the foot's impact during support, reducing the joints' trauma and related cartilage. Besides, it can dissipate stress over a much larger body, redistributing the load under pressure.
HIGH REBOUND technology accumulates potential energy at each step, resulting in a return of kinetic energy (over 40% more energy!) immediately perceived by the footwear wearer.
Due to a series of sensory information during walking, the PU generates a viscoelastic response reaction of the Mio-fascia.
I mean the connective tissue that envelops muscles, tendons, ligaments and organs, supporting circulatory function on blood and nutrients). Here is greater muscle effectiveness with less energy expenditure and increased circulatory function.
It is self-evident that the rolling, the succession of footrests of the step (heel, plant, toe) can take place as a bascule, harmoniously and elastically way, with a perceptible sensation of agreeable well-being.

And therefore, each specific need related to the particular working situation must correspond to a correct technological response because the benefits of a conscious choice are innumerable not only in the immediate but also and, above all, both in the short and long term.
So: if you are a warehouseman, choose safety shoes for warehousemen!
A proper choice will assure you of great benefits.
Which are the long-term and short-term benefits?
We list the leading and most important!

SHORT-TERM BENEFITS
✔ Maximum grip/safety and lightening of the step;
✔ Less fatigue at the end of the day and in movements for the same number of hours worked;
✔ Lower energy cost of walking and less fatigue on the legs;
✔ Reduction of accident risks due to slipping and tripping;
✔ Reduction of risk factors related to fear of slipping (analgesic reflexes);
✔ Reduction of risk factors leading to harmful postures;
✔ Reduction of cervical risk factors (for example, a stiff neck);
✔ Reduction of night and daytime cramps, muscle contractures and low back pain;
✔ Reduction of risk factors related to shocks on the skeletal system;
✔ More excellent balance and reflex readiness;
✔ Higher sensitivity and perception of the legs;
✔ Reduction and disappearance of joint pain;
✔ Better blood circulation and greater oxygenation of limbs, muscles and internal organs;
✔ Reduction and removal of sciatica;
✔ Reduction and disappearance of recurrent pains, inflammations and headaches;
✔ Acquisition of more freedom of movement;
✔ Reduction and disappearance of tingling/paraesthesia, arthritis symptoms and carpal tunnel syndromes;
✔ Reduction and disappearance of risk factors related to the production of cortisol (stress Hormone).

LONG-TERM BENEFITS
✔ Reduction and disappearance of long-lasting chronic algae;
✔ Improvement of legs and arms strength;
✔ Greater oxygenation of the back and improved mobility of the spine;
✔ Improvement of static and dynamic posture;
✔ Amelioration of gastrointestinal functions and organ functions in general;
✔ Increased oxygenation of the spinal cord;
✔ Normalization of the postural tonic system;
✔ Reduction of calluses, plantar corns and improvement of the plantar support;
✔ Improvement of walking;
✔ Reduction of arthritis signs and respiratory function;
✔ More considerable energy upon morning awakening;
✔ Reduction and disappearance of symptoms and postural disorders and body inflammations;
✔ Increased awareness of one's body and the improvement of natural healing abilities.

Did you ever think that a safety shoe can have so much influence on your well-being?
How much can a conscious choice of purchase and use affect the quality of your present and future life?
Dr Michele Montagna reminds us we can use our body efficiently only when it is coordinated and in harmony as a whole. And U-POWER offers you all the quality and technology necessary to safeguard your most precious asset: your health!
Choose with awareness, choose U-POWER work shoes.

U-POWER, safety shoes and quality workwear.
Dear reader, we hope you enjoyed the article.
If you want to deepen the subject and want more information, do not hesitate to contact us using the form below. Our technical staff will be happy to answer to your questions as soon as possible.
You ask, U-POWER, answer!