HOW TO RECOGNIZE A PROFESSIONAL WORK SHOE? FROM TECHNOLOGY!
TECHNOLOGY AT THE SERVICE OF PROFESSIONAL FOOTWEAR
Do safety shoes have to be uncomfortable?
When many workers think of safety shoes and, in general, of the work shoes they wear for many hours a day carrying out their activity, the first feeling they associate with this essential PPE is discomfort and annoyance.
Rigid, tight and heavy, safety shoes are a nightmare for many professionals who have to wear them for long working days, often spent in standing positions, perhaps outside, facing the winter cold and the summer heat.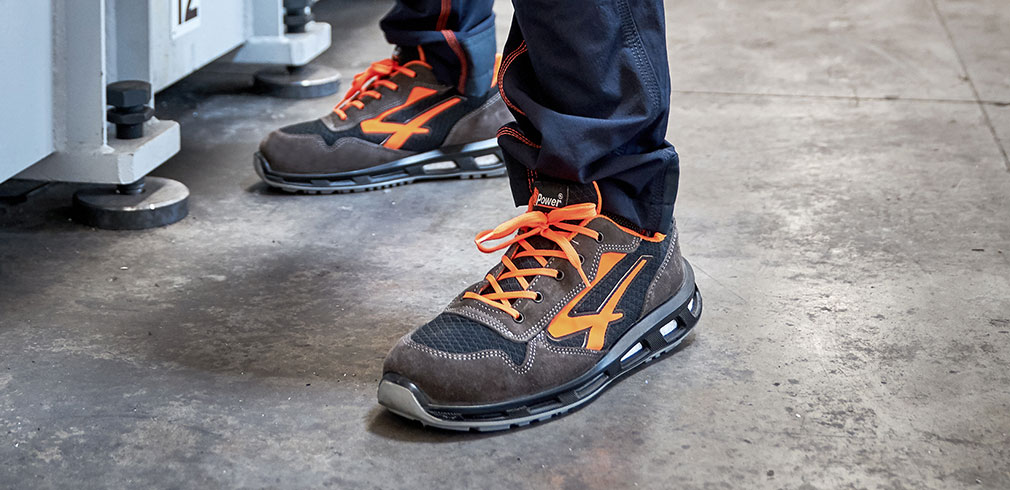 Fortunately, technology comes to help us!
The good news is that the research met the needs of many categories of workers. It developed a series of professional footwear's safety characteristics, allow us to offer you products that will make it easier to face your working day thanks to the materials used and the innovative technologies.
Let's see together what new technologies offer us.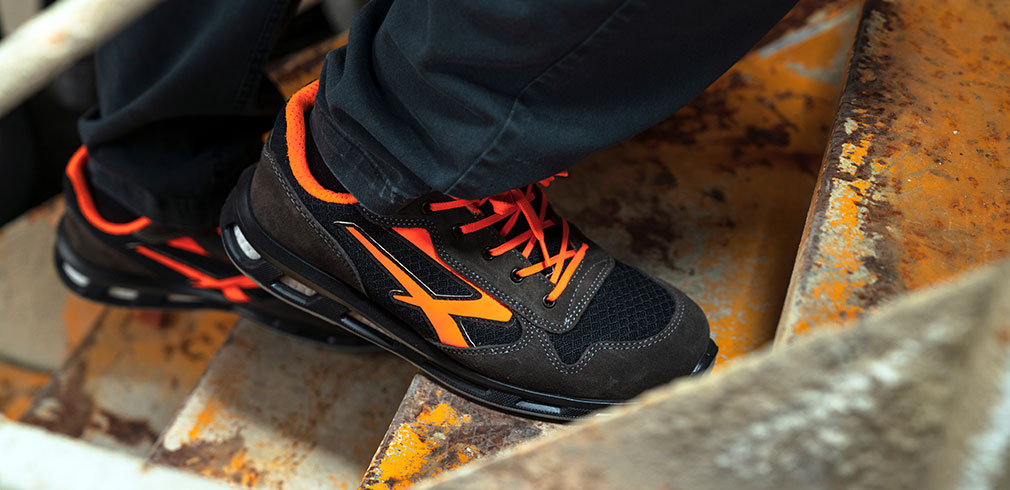 U-Power's commitment to professionals that have to wear safety shoes for their activity focuses on proposing a range of work shoes based on the best technologies currently available, with particular attention to the product's quality and the comfort of those who use them.
Which are the innovative technologies applied to the safety shoes that you can buy from U-Power? Let's see some by our "Mondo Red", in all those lines, whose products are specific to different needs, that we have united under the wording Red.
For example, in the Red Lion, Red Over and Red Pro work shoes lines, we used a new material for the soles, made by the BASF Group, the world leader in plastic materials: the E-TPU (expanded thermoplastic polyurethane).
It is how our INFINERGY® SYSTEM was born. It allows us to make lightweight soles with an optimal cushioning effect to reduce the feeling of fatigue, the appearance of musculoskeletal disorders and always guarantee broad freedom of movement in every situation.
We must never forget that we often use our safety shoes outdoors, in the most diverse climatic conditions. It is, therefore, essential that the INFINERGY® SYSTEM concerns with a material that maintains its elasticity cushioning capacity from -20°C to +40°C.
Try to visit our website and see how we apply this system in different ways to our real models, such as Yellow of the Red Lion line, Legend of the Red Over line, or Nate of the Red Pro line.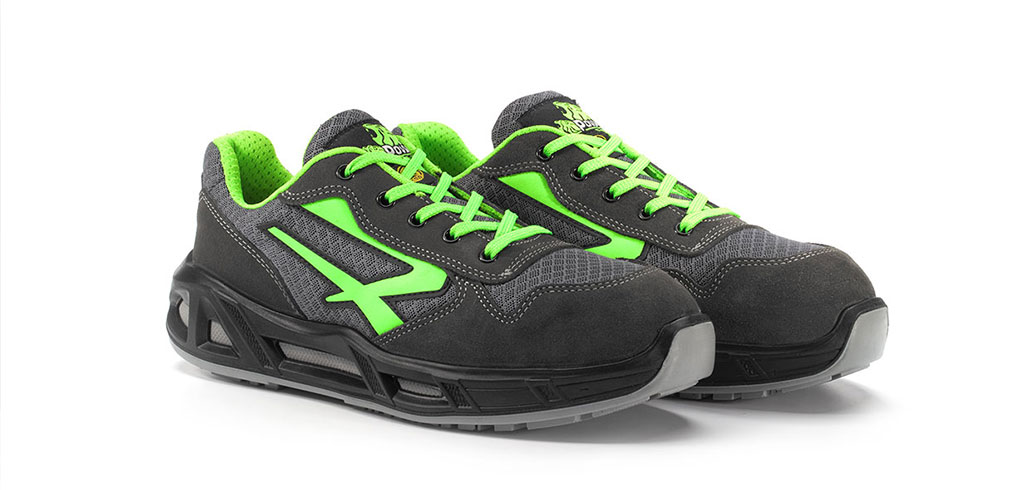 Also, to relieve leg fatigue and reactivate circulation during long-standing working days, U-Power has developed Red Carpet technology which significantly improves professionals' quality of life who often have to work in fixed positions for long periods. This innovative technology applies throughout our Red Carpet line, such as our Active Carpet Model and the Red Up Plus line, in which it combines with High Rebound technology, which we will discuss below, to have maximum comfort products, such as Gemini Plus shoes.
The well-being of professionals who have to work for hours with safety shoes is at the heart of U-Power's daily commitment to the conscious search for new technological solutions. These can guarantee benefits from the point of view of immediate comfort while working and long-term well-being to prevent circulation disorders, back pain and other musculoskeletal aches, as shown in a previous article tests that Dr Michele Montagna conducted for U-Power.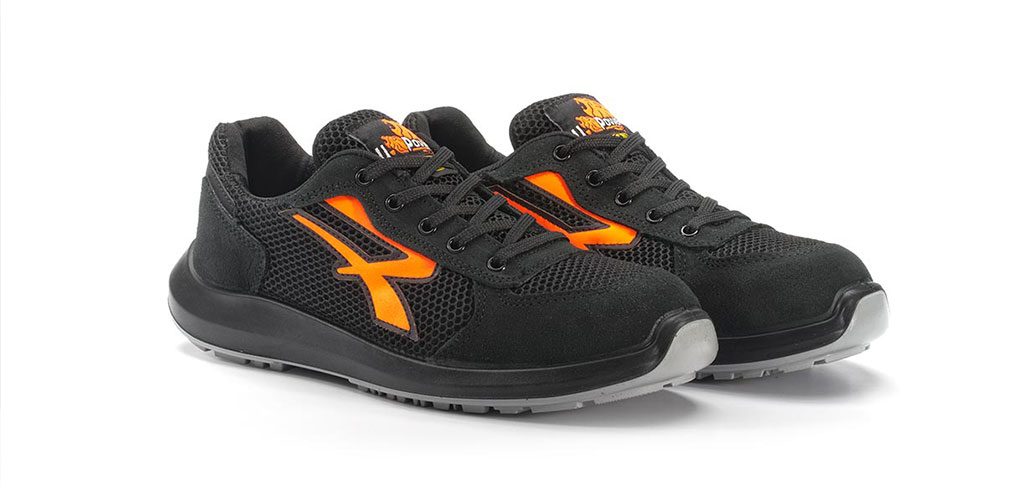 Among the factor that increases both immediate comfort and health protection, the safety shoe's ability to cushion the weight of who wears it, is to absorb the mechanical energy received and return it in part to the foot.
U-Power's High Rebound technology offers excellent performance from this point of view, returning, both during the foot support phase and the push phase, a return of 40% of the absorbed energy.
This exceptional result achieves with the use of elastopan, an innovative polymeric material developed by the BASF Group, which allows supporting the foot optimally, even with a lightweight and comfortable shoe.
You will find the High Rebound technology in our Red Up and Red Up Plus lines, such as the Sirio model, suitable for women and the above Gemini Plus model.
Another U-Power technological innovation, the anti-fatigue Wow2 insole. It gives optimal and always fresh support to those who have to spend many standing work hours, especially in static positions. It also applies in our Red Industry line that contains light and comfortable safety shoes such as the Denver model.
You can recognize U-Power's right professional footwear by the technology and quality of the materials. They can protect, support and make outdoor, standing, or fatigue work less bulky for many professionals in every sector.
U-Power is the Technology and Quality at worker's service.

Dear reader, we hope you enjoyed the article.
If you want to deepen the subject and want more information, do not hesitate to contact us using the form below. Our technical staff will be happy to answer to your questions as soon as possible.
You ask, U-POWER, answer!