WORKWEAR FOR YOUR SAFETY IN THE WORKPLACE
WORKWEAR FOR YOUR SAFETY IN THE WORKPLACE
Safety in the workplace it's a matter of prevention, awareness, attention and precaution.
When you use the personal protective equipment best suited to your profession, you don't only make an intelligent and conscious purchase, but you put yourself in the best position in the best condition to do your job. Workwear, indeed, is designed to meet the specific needs that arise in your working day and to improve your working conditions.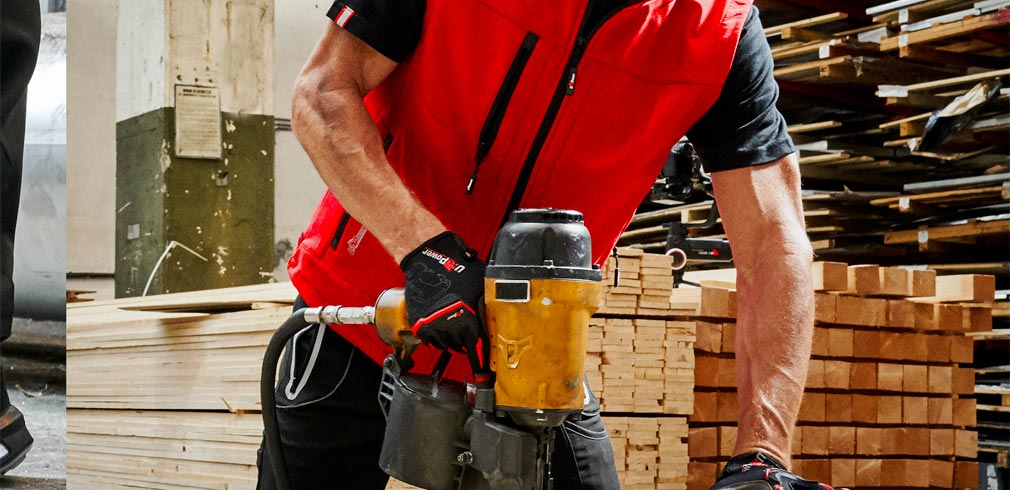 The functionality of workwear is essential to make your movements and actions more comfortable. Technical fabrics can improve your comfort and reduce stress, improving concentration and attention in performing your functions.
The safety's clothing is given by little details that not only reduce the risk of an accident at work, but also help you saving precious time and maximising your efforts: if you have to look for a working tool in the toolbox whenever you need it, how often do you have to stop to complete your task? What if you could have everything at hand?
Correctly matching workwear allows you an excellent job "setup" that improves your performance and your wellness and reduces work stress.
U-POWER catalogue offers a wide variety of proposals ranging from safety shoes to workwear. Let's see together an example of ideal work clothes in Total Look U-POWER.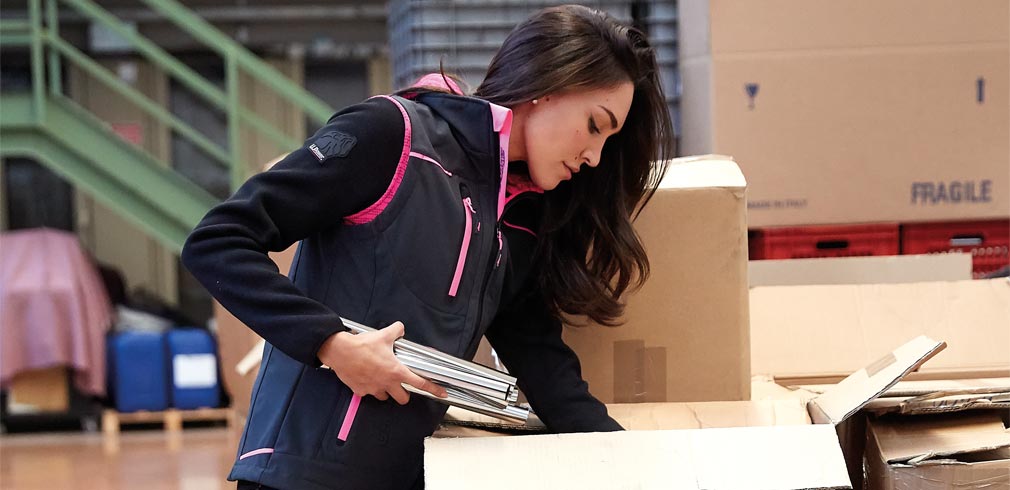 Jeans are certainly one of the favourite clothing for all ages, from children to adults, for both men and women.
Therefore, it is easy to understand why it is one of the most popular models, also in the field of safety work clothes and in every sector.
Workwear jeans are durable, wear-resistant, resistant to frequent washing and often we can use in free time, too. Clotheslines and the fashionable cut make them the perfect clothing in any situation!
To be comfortable and functional during work, they must have a distinctive feature: the combination with a stretch fabric that ensures freedom of movement.
The presence of many pockets guarantees practicality and, the possibility to have all you need at hand.
Let's take a closer look at one of the Tops of the Range U-POWER models: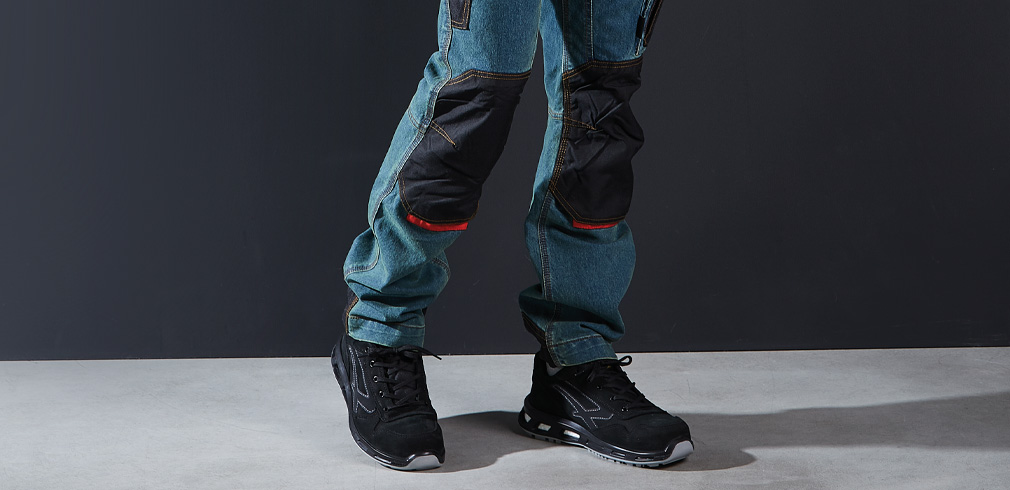 Workwear jeans in accordance with all the requirements foreseen by the health and safety clothing regulations at work, in stretch fabric with Cordura® inserts and Combat reinforcements in the areas of maximum contact and effort to improve wear resistance and reinforced pockets entry profiles.
PLATINUM BUTTON is hugely functional:
✔ Two large front pockets;
✔ A coin pocket;
✔ Side tool pocket;
✔ Multifunctional side pocket with mobile phone holder and detachable badge holder;
✔ Two back pockets with Free Pocket system;
✔ Two knee pad pockets in Cordura®;
✔ Ergonomic side patch with tool holder cartridge belt in wear-resistant material;
✔ Hammer loop.
Workwear Stretch denim trousers perfect for farmers, carpenters, electricians, plumbers, installers, warehousemen, mechanics, builders.
The sweatshirt is multifunctional and convenient clothing. It's the ideal workwear, easy to match and that can be used every day, not only for work but also for casual sportswear.
A good sweatshirt must be able to maintain body heat at the ideal temperature, assuring optimal breathability.
U-POWER has a wide range of workwear sweatshirts, that is ideal also for leisure time, thanks to the quality of the materials used and to the young and sporty line, like: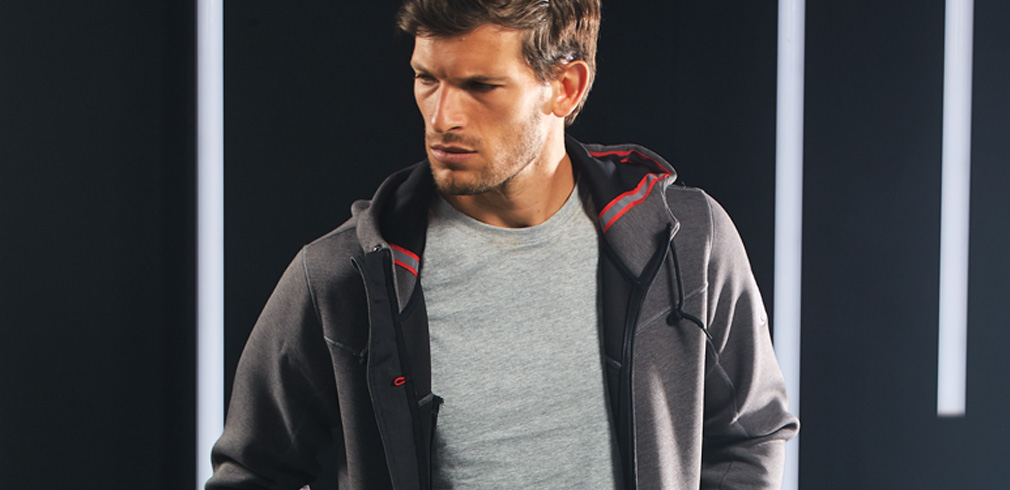 TASTY is a full-zip fleece in scuba stretch jersey fabric and stretch inserts that improve comfort and freedom of movement, with U-POWER "lion head" logo embroidered tone-on-tone on the left sleeve.
The hood is fixed and finished with a reflective tapped edge. There are ribbed cuffs and a ribbed waistband, while there's the central zip with double-slider.
It is equipped with two front pockets and a multimedia pocket on the chest with earphone feed and Free Sound technology.
Underarm ventilation holes guarantee increased breathability.
TASTY is the ideal workwear sweatshirt for carpenters, electricians, plumbers, installers, mechanics and cleaning companies.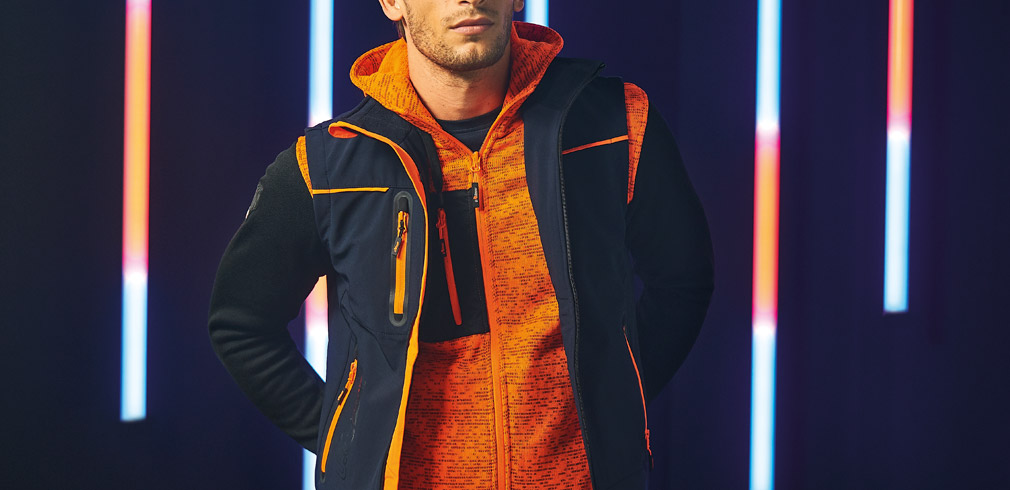 RAINBOW is a workwear sweatshirt with soft fleece inside. Available in three colour variations: Orange fluo, Yellow fluo e Black Carbon.
It is a full-zip model with high collar, adjustable fixed hook, cuffs and stretch fabric bottom. It has two front pockets and one chest pocket. All the pockets have a zip closure: the work clothes warm, comfortable and practical!
The U-POWER "lion head" logo, applied on the right arm, enriches the design of this sweatshirt: ideal for Construction Sector, for the yard, Transports and Logistics, but also in the workshop, for craftsmen, farmers and gardeners.
When the temperature cools down, and the climate becomes harsh, working outdoors or in humid and cold environments can be problematic.
The maintenance of body heat is fundamental to work well, in a state of well-being and with the right concentration. In these cases, a thermal and/or technical underwear should be helpful to preserve the right microclimate and to protect us from the cold.
SKIN is the U-POWER workwear with a complete proposal of thermal underwear:
Long-sleeved and short-sleeved thermal underwear shirt with high-performing technological materials: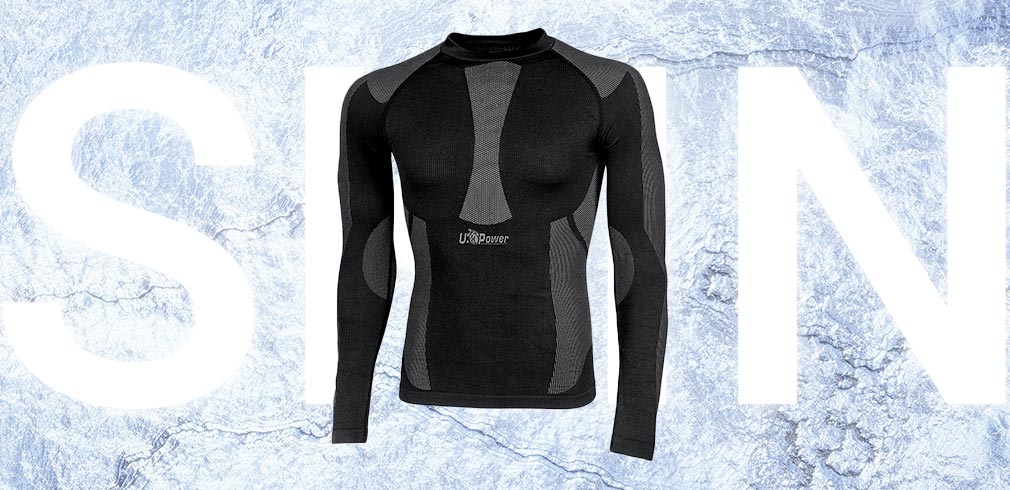 ✔ Thermal work tights and technical tights: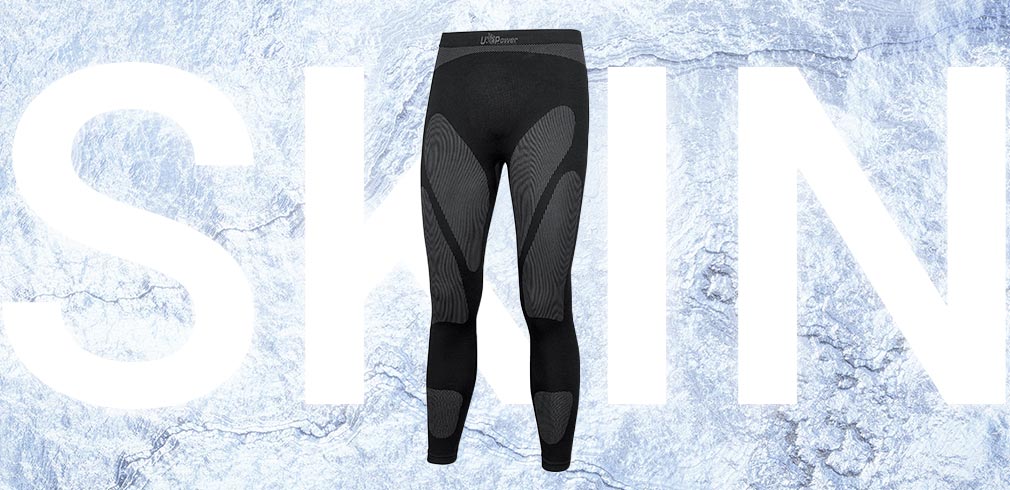 • ZEBRU – with front opening, flat seams so as not to irritate the skin and optimal perspiration;
• EDELWEISS – in comfortable, breathable material with temperature control; front opening, flat seams and without labels so as not to irritate the skin;
• CHAMONIX – antibacterial, thermal tights with front opening, sports-derived.
But the perfect work clothes isn't complete without the right workwear socks!
Work health and safety legislation pays a lot of attention to the importance of workwear. It is worth the assumption:
Safety at work=appropriate workplace clothing
If your work shoes hurt or you suffer from blisters on your feet, before changing your shoes, exchange your socks with a pair of specific workwear socks!
The use of a sock that is not suitable for safety shoes and the type of continuous effort required can cause discomfort in feet, small injuries, and blisters.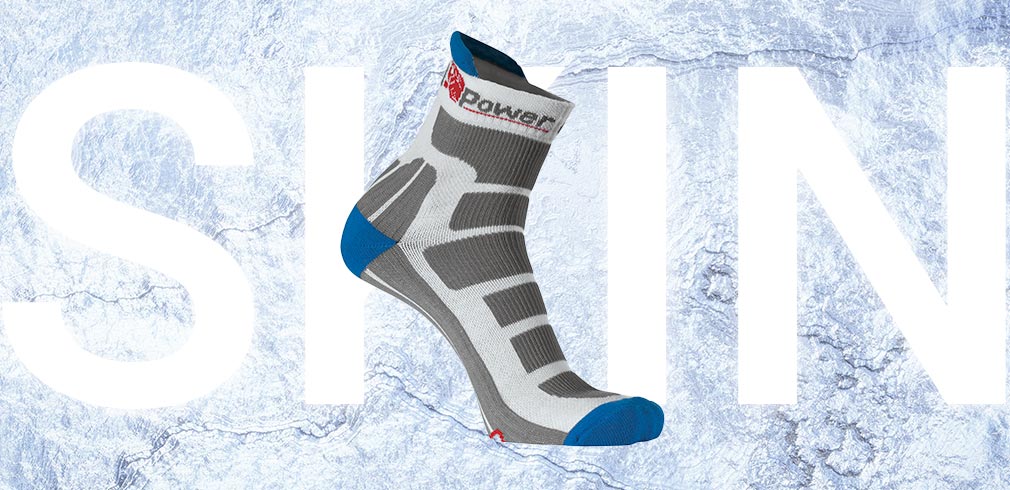 Workwear socks are subjected to continuous stress and movement and, to protect the foot and to ensure its health, they must have specific characteristics, including:
✔ Stretch band/edge with adequate compression;
✔ elasticated Support Band;
✔ Ankle protection;
✔ reinforced toe and heel;
✔ antibacterial Protection;
✔ Quality materials and fibres to keep you warm in winter and fresh in summer.
U-POWER SKIN line offers short, medium and long socks, with protective padding, innovative materials with thermo-regulating properties, antibacterial treatments, support band with graduated compression, ventilation channels and all the freshness and heat that you need in summer or winter.
Choosing appropriate workplace clothing, as good workwear socks to combine with your U-POWER safety shoes helps you to have healthy and protected feet.
Purchasing a U-POWER item means choosing a quality workwear product that protects you, respect your skin and ensures safety from head to toe.
Work safely, choose U-POWER Total Look!
Watch the video to learn more!
Dear reader, we hope you enjoyed the article.
If you want to deepen the subject and want more information, do not hesitate to contact us using the form below. Our technical staff will be happy to answer to your questions as soon as possible.
You ask, U-POWER, answer!