ZERO-EMISSION WORK SHOES: TIPS FROM THE EXPERTS
CONTRIBUTE TO A GREENER WORLD TOO: CHOOSE CARBON NEUTRAL SAFETY SHOES!
What compatibility is there between environmental sustainability and safety in the workplace? Can a recycled material or one obtained from renewable sources ensure the same degree of protection as a traditional material?
We asked Michele Montagna: Kinesiologist and posturologist, graduate in Sports Science, lecturer in Ergonomics, Prevention and Treatment of musculoskeletal disorders in the workplace; Certified Trainer of Occupational health and safety.
Red Industry Green does not just use renewable sources and recycled materials which guarantee the same level of safety to the worker as standard materials, it is also the first range of safety shoes in the world with Carbon Neutral certification.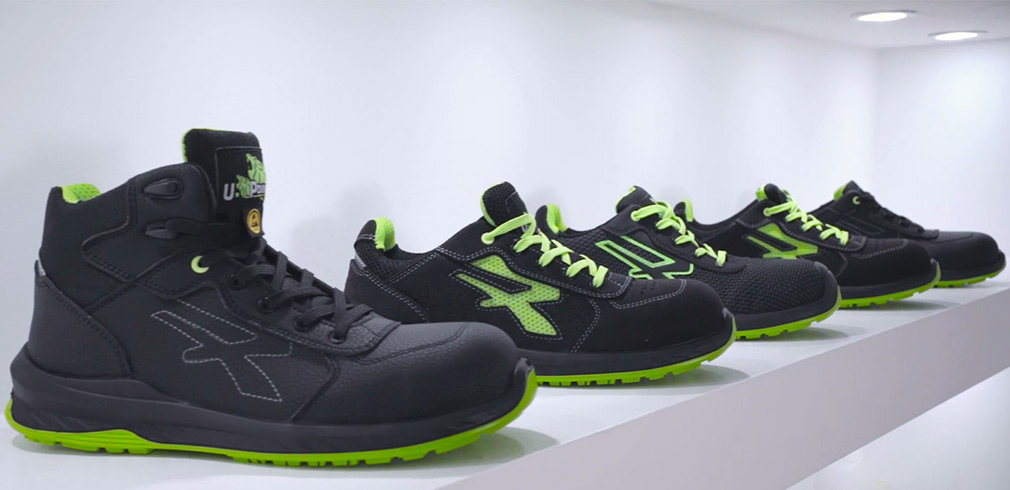 Plastic pollution and the problems linked to excessive carbon emissions have been a central theme of discussion for quite a while: it's time to act!
Change is possible and we can all contribute. The first step is to change our daily habits and learn to choose environmentally friendly products. But this doesn't mean foregoing quality - quite the opposite, in fact!
Research and development are making great strides and coming up with innovative technology and materials which can help us reduce the environmental impact.
U-Power has chosen to embrace this philosophy and the safety is exactly same as the one that has always been associated with the brand.
RED INDUSTRY GREEN: SAFETY SHOES USING RECYCLED MATERIALS FROM RENEWABLE SOURCES WITH ZERO C02 EMISSIONS
Let's see with Michele Montagna how to recognise a shoe that can ensure well-being, comfort, and health prevention.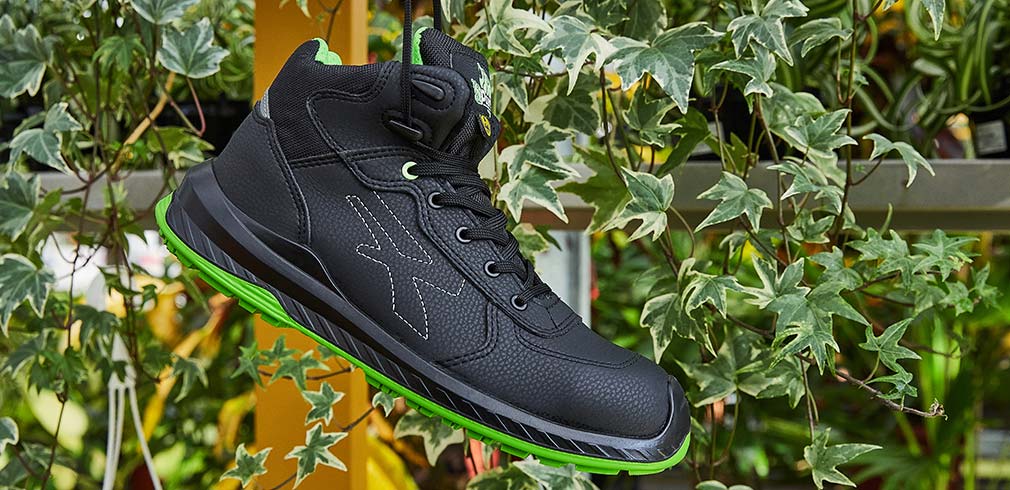 U-Power has always been committed to social themes, focusing on the need for the safety, comfort, and ergonomics of its safety shoes as well as its work attire, by following season changes, gender - man or woman - and specific certified standards of quality, without foregoing design and an attractive style.
Because U-Power always wants the best, it develops and analyses current requirements whilst keeping a close eye on the ones in the future.
Indeed, whatever is awaiting us in the near future brings with it new ways of interacting socially and technologically, aimed at increasingly greener lifestyles.
U-Power sees a future in which to design workspaces and personal protective equipment that are in line with Green Economy Technology. Safety shoes and technical work clothes with less impact from an environmental point of view whilst respecting the worker's safety needs.
RED INDUSTRY GREEN represents sustainable development which can meet the needs of today's workers without compromising the possibility of future generations to fulfil their own needs.
Choosing sustainable products means actively participating in this change whilst maintaining the quality features of the products offered.
Quality, technology, ergonomics, and sustainability must be the benchmark for a conscious choice of personal protective equipment that can be used in everyday life in the workplace.
RED INDUSTRY GREEN is a tangible response to this need and, in addition to using high percentages of recycled material and from renewable sources, it also guarantees zero carbon emissions.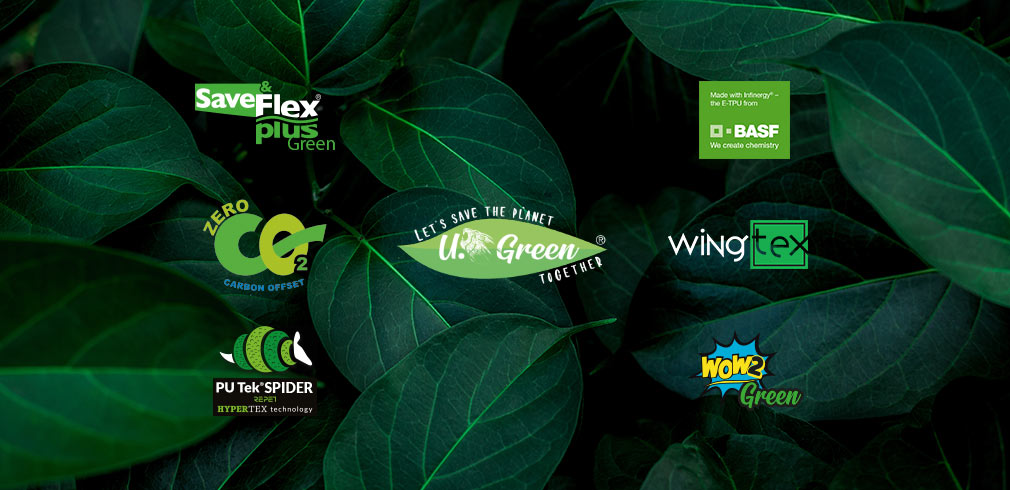 RED INDUSTRY GREEN consists of safety shoe models stemming from advanced research into optimised production processes and eco-sustainable materials from recycled plastic and renewable sources which fully meet the safety criteria of personal protective equipment.
RED INDUSTRY GREEN is part of an innovative project and is the first ever range of Neutral Carbon work shoes in the world, i.e. with zero CO2 emissions, because they are offset by the purchase of carbon credits from taking part in specific projects.
The use of materials from renewable sources and components with a high level of recycled material guarantee the same high performance for:
✔ Safety and protection;
✔ Health and prevention;
✔ Ergonomics and comfort.
The Green material features used by U-Power demonstrate a potential and physical expression which are on a par with the technology that is traditionally used.
The PPE used in the industrial, logistical, automotive and assembly line sector must guarantee not only safety and protection in the short term, but also help to preserve the health of the worker against musculoskeletal occupational diseases that develop over the medium and long term, by reducing the so-called risk factors.
RED INDUSTRY GREEN is a concentration of technology from renewable sources, such as the:
✔ Sole in BASF PU Biomass Balance capable of absorbing shock when used in the workplace;
✔ High-grip tread: with a high level of adherence and safety;
✔ WOW2 Green insole: anatomic and ergonomic. It reducess fatigue on the lower limbs and improves circulation in the legs;
✔ Fatigue-relieving insert: to relieve static positions when you are on your feet for a long time and the pressure around ankle and feet joints, helping to adapt it to the shape of the foot;
✔ WingTex Green lining with a highly breathable air tunnel for an ideal micro climate felt by the foot;
✔ Anti-static technology: with no seams to avoid unwanted rubbing and skin abrasions;
✔ Uppers and laces made of fabric or Putek Spider Repet: with a high percentage of soft, comfortable and breathable recycled material;
✔ Perforation-proof system: protects the entire surface of the foot because it is sewn directly onto the upper.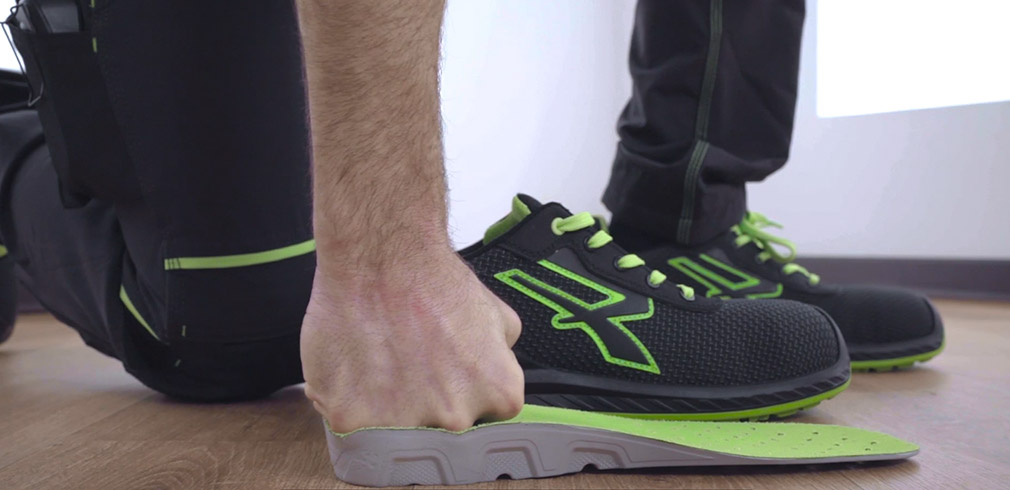 What other advantages and benefits are offered by RED INDUSTRY GREEN footwear?
The tests carried out by Michele Montagna have shown that, when using RED INDUSTRY GREEN safety shoes , viscoelastic response reactions of the myofascia are activated (the connective sheath that covers the muscles, tendons, ligaments, nerves and blood vessels) with a circulatory and support function capable of:
✔ Distributing body weight efficiently and effectively on the back;
✔ Stimulating and improving circulation by relaxing the legs, back, neck, shoulders and arms;
✔ Improving the stages of muscle contraction and relaxation and thus, enhancing the neuromuscular response;
✔ Increasing the support and stability of the posture;
✔ Reducing cramps (day and night-time) and the risk factors on musculoskeletal disorders;
✔ Reducing energy expenditure by increasing strength and elasticity;
✔ Reducing the incidence of work-related stress by limiting the formation of cortisol (the stress hormone) and fortifying the immune system;
✔ Increasing concentration and productivity at work.
Choosing U-Power RED INDUSTRY GREEN means sustainability and ergonomics for a goal such as: the quality of workers' lives thinking about individual well-being and that of the community, in preserving the environment.
U-Power Red Industry Green, a personal choice that benefits everyone.
Dear reader, we hope you enjoyed the article.
If you want to deepen the subject and want more information, do not hesitate to contact us using the form below. Our technical staff will be happy to answer to your questions as soon as possible.
You ask, U-POWER, answer!