WORK GARMENTS AND GRAPHENE FABRIC: AN EXCELLENT COMBINATION!
U-POWER CLOTHING IS TECHNOLOGICALLY ENHANCED THANKS TO GRAPHENE AND ITS PROPERTIES
In recent years, we have heard a lot about graphene and its countless uses, but its use in the textile field is quite recent.
U-Power's Research & Development department, always at the forefront when it comes to the opportunity to use new technologies in the field of incident prevention and personal protective equipment, has designed new garments using graphene fabric to offer increasingly comfortable and safe work garments.
If you have never heard of graphene and its many properties, this article will tell you what it is and the benefits of this new technology applied to work-wear.
Let's take a look together.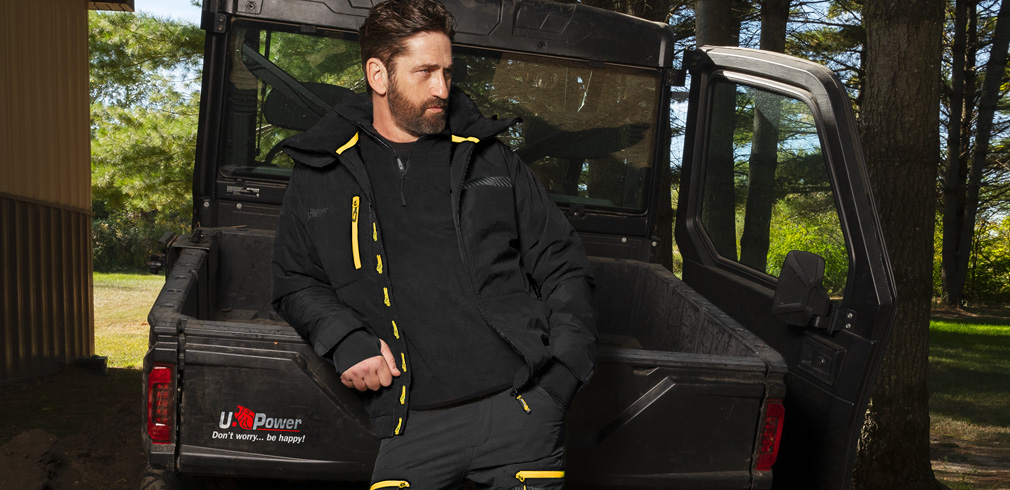 In the textile field, graphene offers countless benefits.
Its special properties make these fabrics ideal for both work clothes and technical sportswear and can also be used in the field of fashion and design.
It is an extremely thin, light, highly flexible but also very resistant material, with antibacterial and antistatic properties, which can dissipate heat in particularly hot situations and keep warm in cold situations.
Let's get to know graphene better!
Read the article to learn more about graphene and its applications.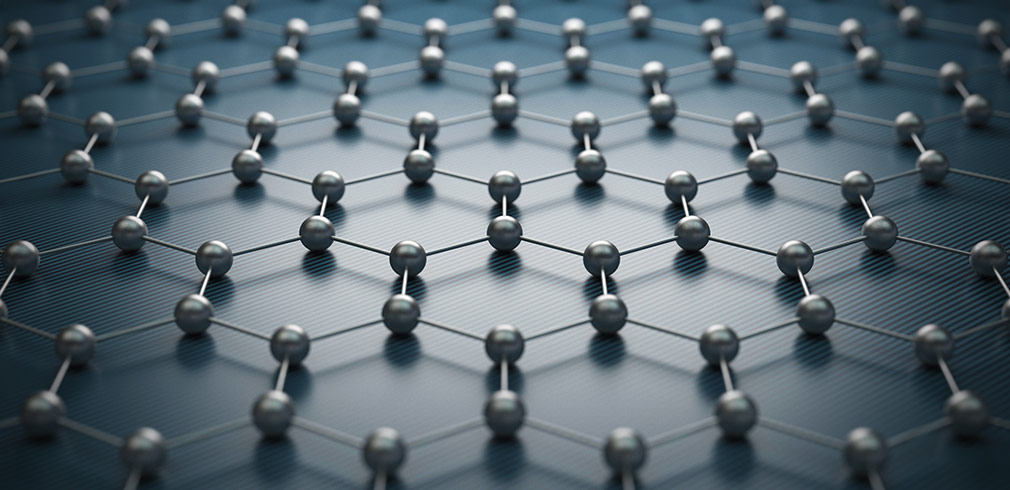 Graphene was discovered in 2004 by two Russian scientists, Andrej Gejim and Konstantin Novosëlov, who won the Nobel Prize in Physics in 2010 for finding a real treasure. Its uses, in fact, are endless and seem to anticipate a real industrial revolution.
But what is this material and what is it used for?
Graphene is a very thin structure of graphite, a carbon sheet the thickness of an atom.
Carbon is the origin of several materials: when the atoms are bonded randomly, graphite is obtained; if the structure is tidy, diamond is obtained.
Graphene has the same neat structure as diamonds – and the same mechanical strength! - but it has only two dimensions. Therefore, it is lightweight but extremely flexible and resistant.
What are the properties that make it so special?
What makes graphene so special is the hexagonal symmetry of its lattice and the two-dimensional movement of electrons that is a hundred times faster than the already fast movement of silicon transistors. We can imagine electrons as bullets that travel without ever deviating from their path.
The compact structure of graphene is impermeable to molecules and all gases and its particular ability to carry heat and the mechanical properties add to the remarkable electronic and physical properties.
To date, research is working on the use of graphene in various sectors, with very promising prospects.
In the textile sector, however, considerable results have already been achieved and, in this sense, we can talk about a new concept of "warmth and comfort"... and much more!
As mentioned before, graphene fabric has found wide application in clothing and, in particular, in work-wear and technical clothing, greatly improving the quality of the garments.
The most important and innovative feature is the ability of this technologically advanced fabric to lower body temperature in particularly hot situations and, at the same time, to maintain heat in cold conditions with a dynamic temperature regulation, "shifting" the heat from the hottest to the coldest points.
This means being able to rely on work clothes that ensure an ideal microclimate and constant comfort with a significant increase in well-being and performance.
Furthermore, graphene is:
✔ Non-toxic;
✔ Antibacterial;
✔ Antistatic;
✔ Hypoallergenic.
It dramatically improves the performance of the fabrics in terms of lightness and resistance, avoiding the accumulation of electrical charges on the surface of the fabrics and their small and annoying shocks that fabrics, especially synthetic ones, can sometimes generate.
The lightness of the garment, together with the heat distribution, with constant ideal temperature, reduces stress and fatigue during intense effort, while the greater resistance extends the life of the garment.
All these features make graphene fabric a real innovation that U-Power presents in its U-Supremacy range the most technologically advanced and cutting-edge range.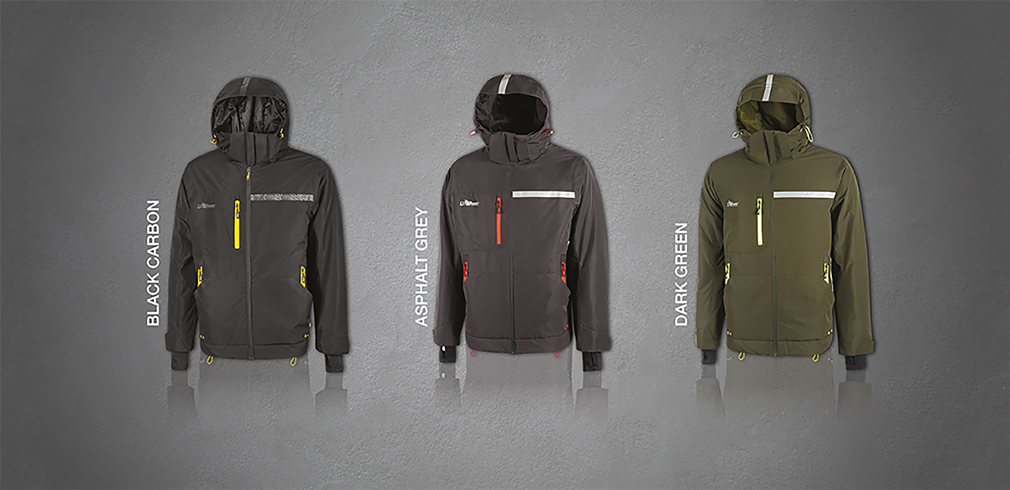 U-Supremacy, the most technologically advanced U-Power work-wear line extends its range and joins the already existing technologies: HeiQ Pure, HeiQ Smart Temp and Polartec eco-engineering, the innovative graphene fabric used in a winter jacket– the Wink graphene jacket - which guarantees heat distribution and retention, as well as garment durability and resistance.
Wink is a work jacket with a design rich in details that guarantees maximum comfort, not only during work but also for leisure activities.
Technologically advanced hooded jacket, with graphene padding and a casual look, available in different colours.
Extremely lightweight, graphene makes Wink a weightless jacket that guarantees ample freedom of movement and a pleasant feeling of warmth and well-being.
Wink is a water-repellent jacket with soft micro-fleece lining in the neck, adjustable cuffs with Velcro, and inner wind-proof cuffs with thumb hole for greater insulation of the body from the cold.
The elasticated drawstring waist ensures maximum fit while the numerous pockets guarantee functionality and practicality: two hand warmer pockets with drainage holes, plus two vertical front pockets, a vertical chest pocket, and two spacious inner pockets.
The opening of the inner back section allows the customization of the garment facilitating prints and embroidery, whereas the reflective band on the left side of the chest and on the hood with double adjustment, ensures greater visibility.
Wink is the innovative soft and warm winter work jacket, which guarantees the highest performance in terms of temperature control and comfort.
Well-being and a new lightness, all to be tried!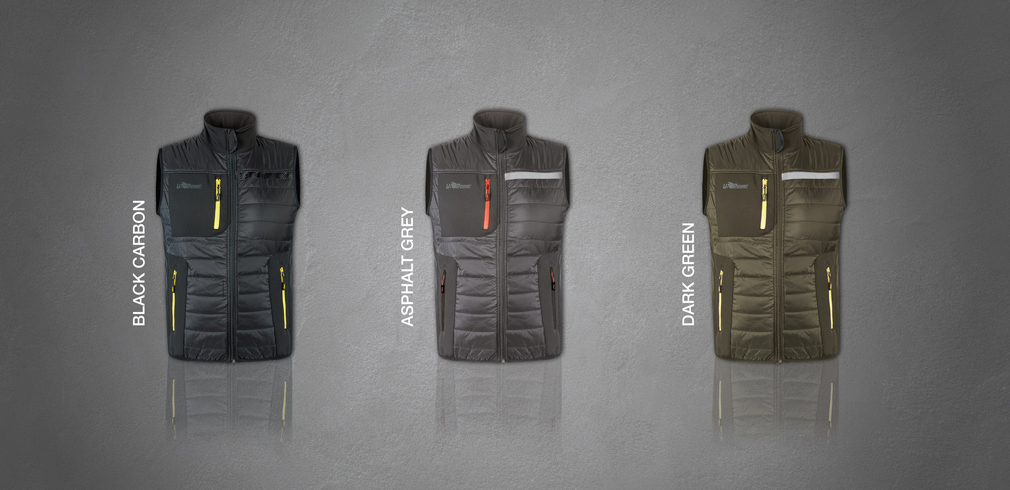 One of the main characteristics of graphene is, as we have seen, its ability to distribute heat, which means that it doesn't just maintain a constant temperature on the body but can disperse excess heat in hot weather.
An exceptional feature which guarantees well-being in spring and autumn even when there are sudden temperature changes, and we can find it in the Wall work gilet in the U-Supremacy range.
Wall is a gilet with a graphene padding, which, in addition to ensuring prolonged comfort, contrasts the proliferation of bacteria and has an anti-odour action.
The sporty design and attention to detail make this padded gilet ideal for both work and leisure:
✔ Water repellent gilet
✔ Multi-pocket vest with two front pockets plus one vertical pocket on the chest, all with zip closure and one inside pocket with Velcro
✔ Breathable gilet with an optimal fit
✔ Bottom and armholes in a stretch fabric
✔ Softshell side inserts
✔ "U-Power" reflective logo print on chest and "U-Supremacy" print on back
✔ Contrasting side bands (variable according to colour).
Discover all the advantages of graphene fabric and the comfort of U-Power workwear!
U-Power, Innovation and Technology at the service of workers.
Dear reader, we hope you enjoyed the article.
If you want to deepen the subject and want more information, do not hesitate to contact us using the form below. Our technical staff will be happy to answer to your questions as soon as possible.
You ask, U-POWER, answer!