WAREHOUSE SAFETY SHOES: PROTECTION AND PREVENTION
WHICH TIPS FOR YOUR SAFETY BOOTS IN A WAREHOUSE ENVIRONMENT
Working in logistics as a warehouseman requires much physical effort and energy, considering the long hours on your feet, on the move and the heavy loads to handle. So, repetitive movements, physical actions, and incorrect postures can cause musculoskeletal disorders in the short, medium, and long term.
The choice of comfortable safety shoes designed to meet the specific needs of those who perform dynamic work for long hours on their feet can also prevent heavy legs, back pain, and neck and joint pain.
The correct choice of safety footwear protects the worker from injuries, helps prevent health and can significantly improve perceived comfort during the working day.
Let's see how!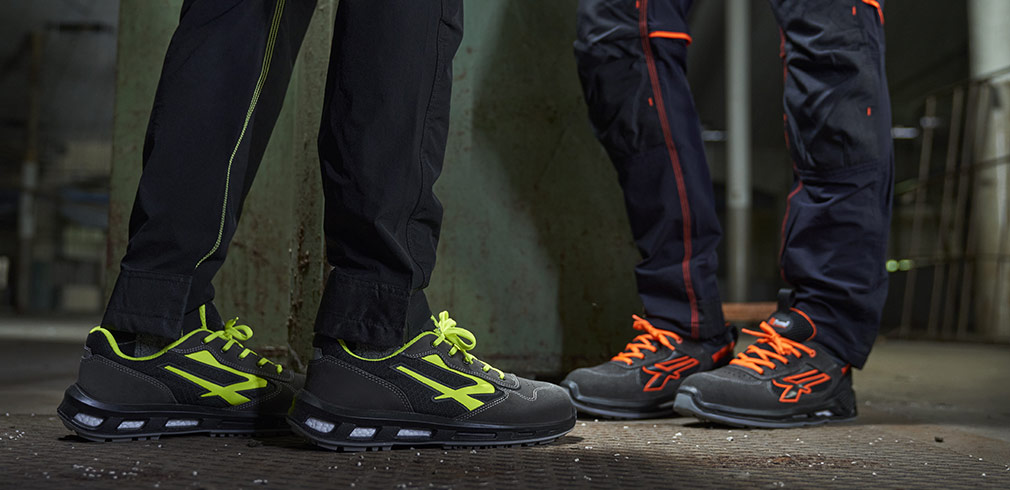 Safety shoes protect the worker from any dangers and risks of injury during his duties.
A toecap's presence guarantees toe protection from the risk of accidental falling of weights; the non-slip sole prevents the risk of slipping. But what do you have to consider to ensure comfort and performance?
Let's discover together how technology and innovation come to meet us to obtain comfortable and light safety shoes, improving perceived well-being and work performance.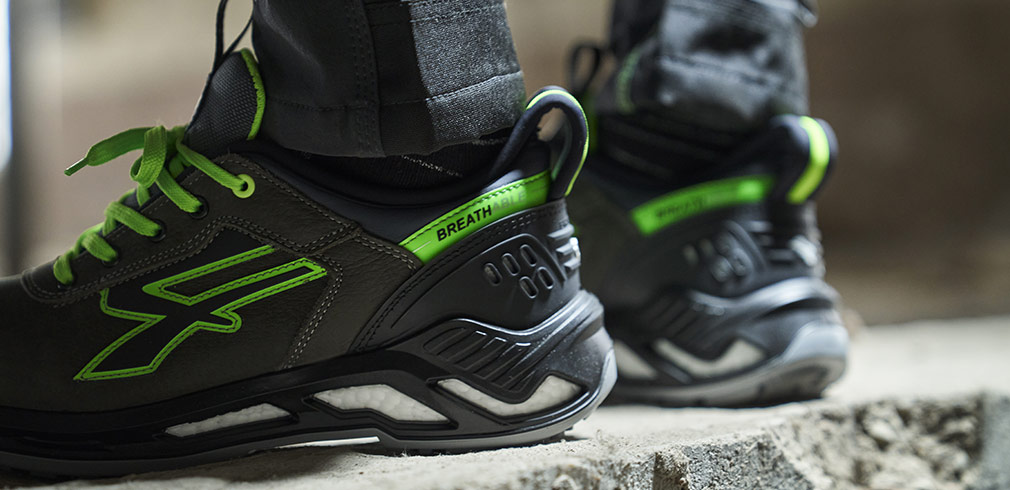 Working as a storekeeper and constantly moving goods, products, and packages puts you at risk of having something fall on your feet. So, if you're wondering if people who work in warehouses shoes should wear safety shoes with toe caps, the answer is yes.
Toe caps vary in material, with steel, aluminum, and composite being the most common. The main difference between them is weight.
Steel toecaps are heavier than the alternatives, which can make a difference in comfort and well-being. It is also a question of performance.
Steel is magnetic and sets off metal detectors, while aluminium is non-magnetic. On the other hand, composite toe caps are made of nylon, so they are completely "Metal-Free", and are lighter than steel and aluminium toecaps.
All three toe caps guarantee protection against the risk of injury but, as we have seen, offer performance suitable for work environments with different needs.
Another critical feature to consider is the footwear's ability to restore energy and prevent musculoskeletal disorders.
Did you know that over 200 musculoskeletal disorders affect 1 in 4 of the adult population in the UK (around 9.6 million people)?
Occupational diseases related to musculoskeletal disorders significantly impact the quality of life of millions of people in the UK, with a loss of around 10.8 million working days!
The main factors affecting musculoskeletal disorders are:
✔ Repetitive movements.
✔ Excessive range of joint movement.
✔ Incorrect postures for a prolonged time
✔ Intense and recurrent muscular efforts.
Let's see how to prevent these disorders and what technologies can help us.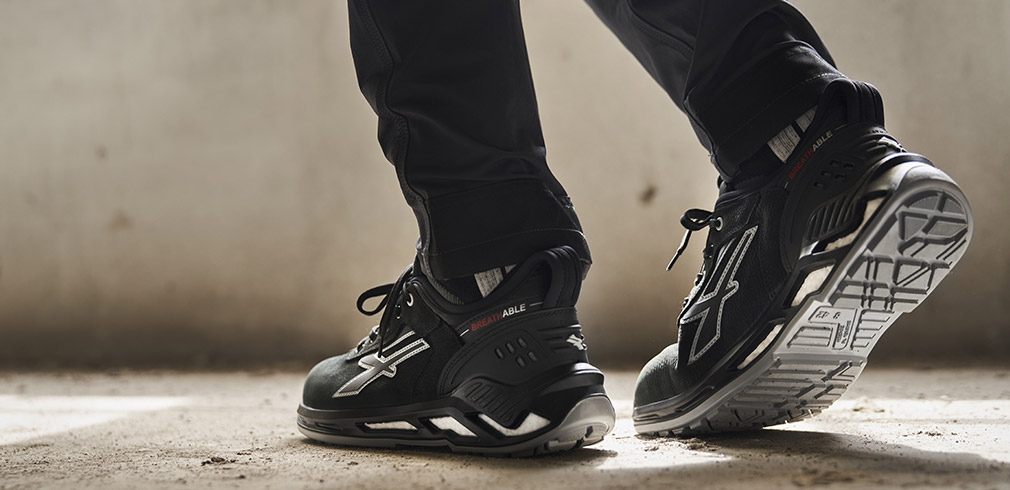 Safety shoes with high energy returns are ideal in all dynamic work situations and, therefore, are particularly suitable for warehouse workers.
The Infinergy® system by U-Power consists of an insert that transforms traditional cushioning into dynamic cushioning, returning over 55% of extra energy with every step.
The insert stores energy to return when the foot lifts up.
You can find Infinergy® in several U-Power shoe ranges that offer many warehouse safety shoes alternatives.
The Red Lion range offers boots and low-cut styles with Airtoe® Aluminum toe cap and Save & Flex Plus anti-perforation system. The sole is anti-static, anti-oil, anti-abrasion, and anti-slip. In addition, the high-grip tread increases grip and ensures stability even on the most treacherous surfaces.
The tests have shown that Red Lion shoes can dissipate joint stress and muscle, lightening the steps with great benefit to the legs and spine, thus reducing the risk of developing musculoskeletal disorders.
The Red 360 range has similar features to the Red Lion range. However, it differs from this through the presence of a waterproof and breathable shock heel, with Shield technology that improves posture stability.
The assortment offers a wide range of styles that differ in upper and fit characteristics. The Ryder, for example, is equipped with a Lycra® fibre fabric collar that wraps the foot like a sock guaranteeing extreme comfort. In addition, the presence of two eyelets - one at the heel and the other on the instep - allow for an easy fit.
On the other hand, the Arden is a mid-cut safety boot with ankle protection and traditional lacing with laces.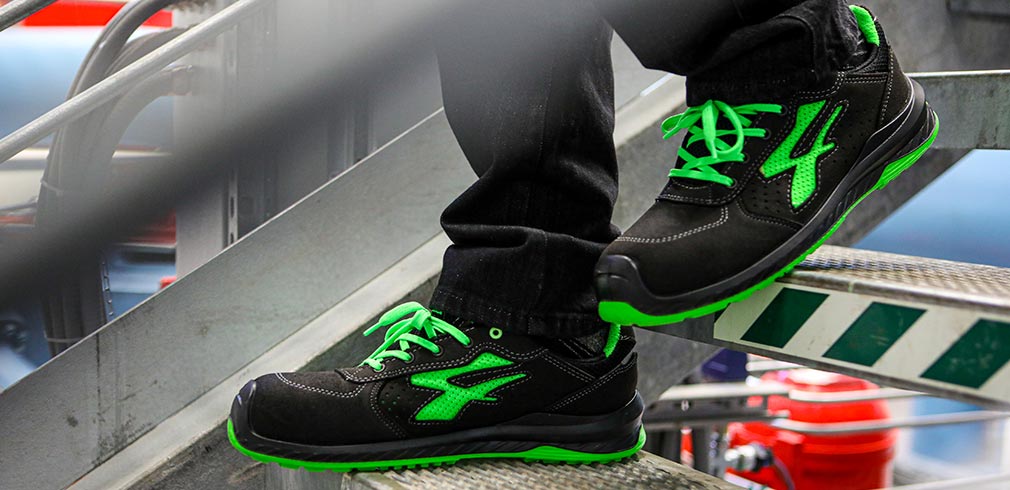 In U-Power, Research & Development never stops, and innovation and advanced technologies give life to new ranges that are increasingly performing and closer to the needs of the worker, offering numerous alternatives to satisfy every need.
So, speaking of logistics and warehouse, we cannot help but suggest two other ranges: the superlight Red Leve safety shoes and the Carbon Neutral safety shoes in the Red Industry Green range.
Red Leve is U-Power's superlight safety shoe range that uses innovative materials. The new generation ultralight sole, the Save & Flex Air anti-perforation system and the U-Power Original anatomical insole allow reducing the weight of the shoe considerably.
The toe cap on this shoe is made from lightweight aluminum. Different styles are available, with different protection standards. The Logan style has a Putek Plus upper and protective film on the toe cap, while the Parker style is made from soft Nabuk effect microfiber. Both styles are available in S3 SRC CI ESD.
Red Industry Green is the first Carbon Neutral safety shoe range in the world with zero CO2 emissions.
These shoes use recycled plastic or renewable sources materials, according to a production process capable of offsetting carbon dioxide emissions by purchasing credits for specific projects.
We are talking about an assortment of latest generation eco-friendly footwear with a low environmental impact that contributes to protecting the Planet.
The Red Industry Green styles are fitted with a super light Airtoe® composite toe cap, ensuring high performance and durability.
They are the best choice for those who think about their safety and the Planet.
Choose U-Power for your next pair of safety shoes! U-Power offers quality products with a Made in Italy design.
Dear reader, we hope you enjoyed the article.
If you want to deepen the subject and want more information, do not hesitate to contact us using the form below. Our technical staff will be happy to answer to your questions as soon as possible.
You ask, U-POWER, answer!