U-POWER WORKWEAR: PURE TECHNOLOGY!
U-POWER FOOTWEAR AND WORKWEAR: COMFORT, CONVENIENCE AND FUNCTIONALITY TO WORK AT YOUR BEST
When our work requires personal protective equipment, we must wear professional clothing dependent upon the type of tasks performed, but work clothes cannot always give optimal comfort.
Fabrics may be stiff and hinder movement, may not offer the right balance of warmth or wackability.
When the garments we wear are uncomfortable, working conditions are affected, by mood and concentration and performance, which means less safety and more significant fatigue.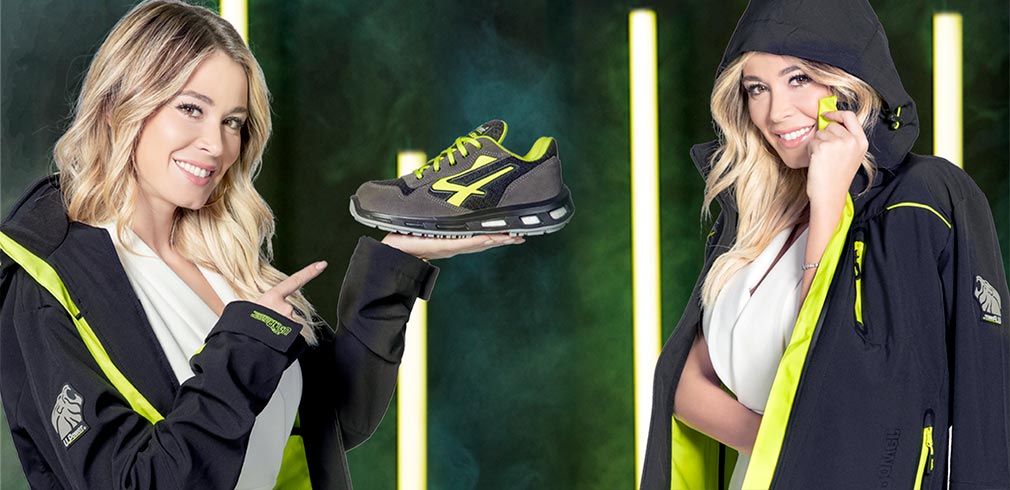 Since the Safety policy birth until now, the constant search for new technologies has provided the development of new incredibly light, comfortable, and resistant fabrics that, combined with the right design, offer the worker all the comfort they need without using their everyday leisurewear.
One of these innovations is the 4-way stretch fabric and U-Tex membrane used by U-POWER in our new workwear range, which, unsurprisingly, is called FUTURE.

FUTURE is an innovative line not only in terms of materials but also for functionality and safety concept.
Let's see this in more detail: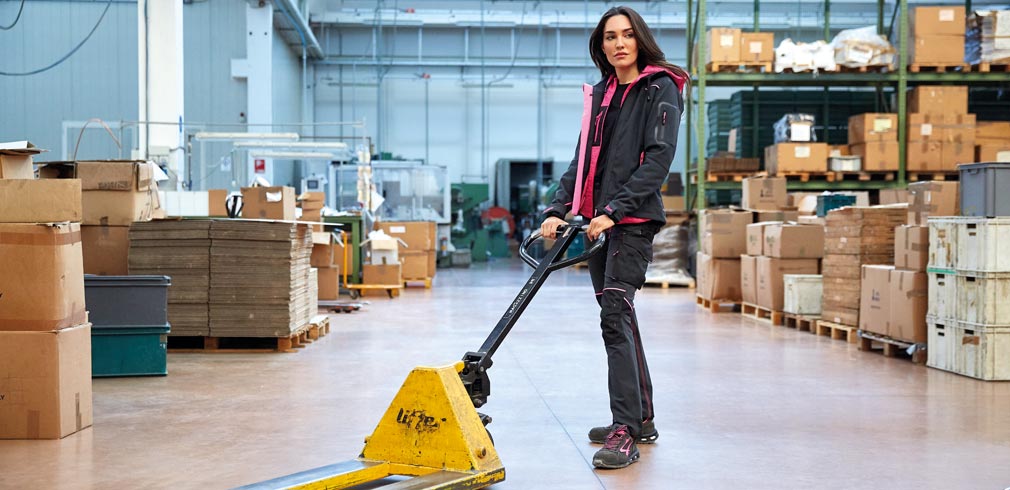 FUTURE is the new U-POWER workwear range comprised of the SPACE jacket, the UNIVERSE gilet and the WORLD trousers.
What does this originality give us?
There are two main innovations: the first is in materials and treatments, the second in the particular attention to detail that gives these models greater functionality and a more extensive guarantee of safety at work. We will go through the details related to conception and design later, but now let's focus on the fabric's advantages.
The U-4 (4-way stretch) fabric used for the WORLD trousers is characterised by its high elasticity and extreme comfort that boasts a high resistance to wear, tears, abrasions and chemicals.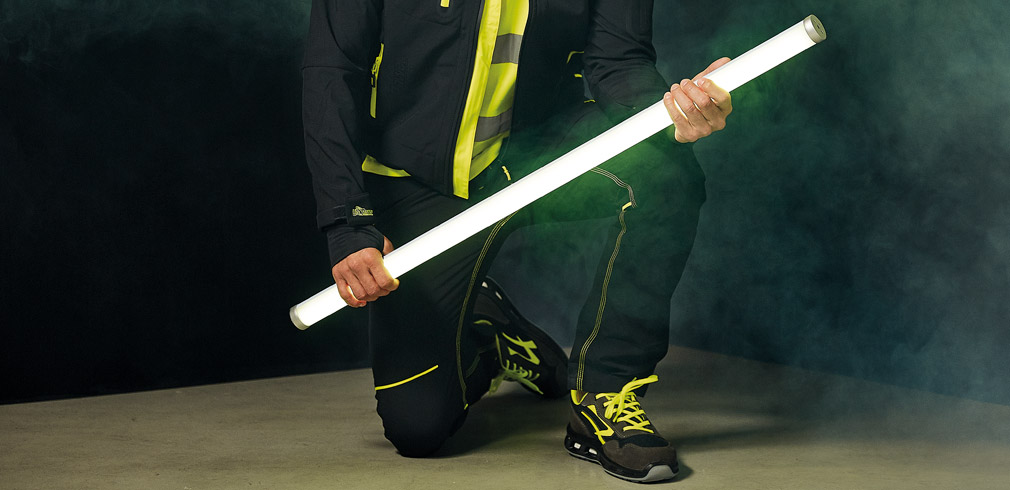 This fabric has undergone a water-repellent treatment in the FUTURE line that protects it from external humidity and rain. In essence, the material does not absorb water, dries quickly even after multiple washes, and resists very well in contact with solvents, oils, fats, and fuels.
Its internal Double Wave structure consists of a double weft texture that allows the air passage between one surface and another. It avoids complete contact with the skin, improving the feeling of comfort, breathability and even protection against the wind.
In the SPACE jacket and the UNIVERSE gilet, the underlying fabric is the warm and soft Softshell combined with the thermoplastic polyurethane U-Tex. An elastic TPU stretch in four directions which is also very light, ultra-thin, resistant to oils and greases and excellent impermeability and wind protection characteristics while ensuring optimal perspiration.
In short, highly innovative, and technological materials ensure protection against external agents and respect skin and body health.
Let's look at the SPACE work jacket.
SPACE has an adjustable and detachable hood, a central closure with waterproof zip, shaped bottom and preformed sleeves for a perfect fit. The internal lining in soft fluorescent microfleece ensures an excellent internal microclimate. At the same time, the reflective inserts and the tape on the collar ensure high visibility.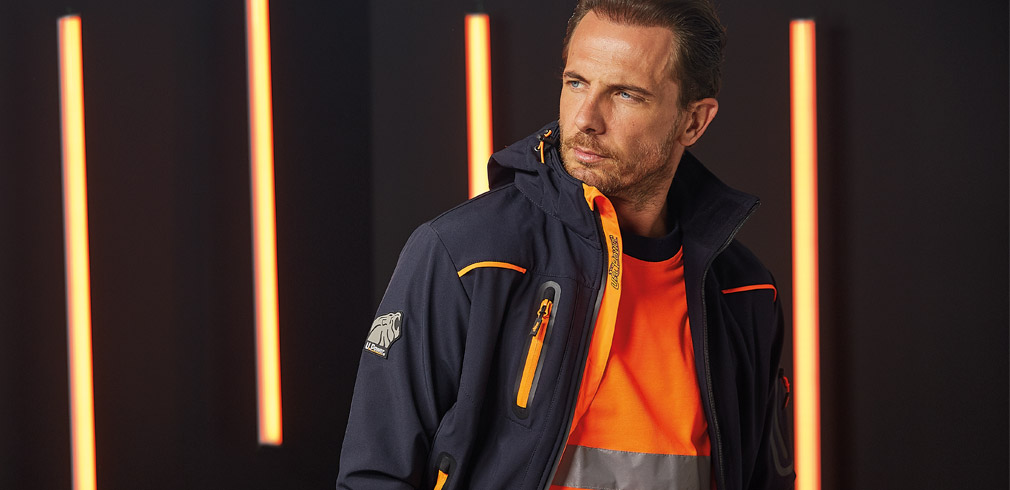 The SPACE jacket has several pockets, all very comfortable and functional:
✔ Two closed front pockets with fluorescent zip and anti-tangle drawstring inside;
✔ A chest mobile phone pocket with Free Sound technology and fluorescent zip;
✔ Two large inner pockets;
✔ An additional Thermo sealed pouch on the left sleeve.
Embellished with the tone-on-tone U-POWER logo and available in two colours: Black Carbon and Deep Blue.
Of course, we are talking about a soft softshell jacket with a U-Tex membrane and, therefore, warm, soft, light, waterproof, breathable and windproof.
A high-performance jacket with a totally "Made in Italy" design ideal for work and leisure!
The UNIVERSE gilet has the same characteristics as the SPACE jacket but in a sleeveless version.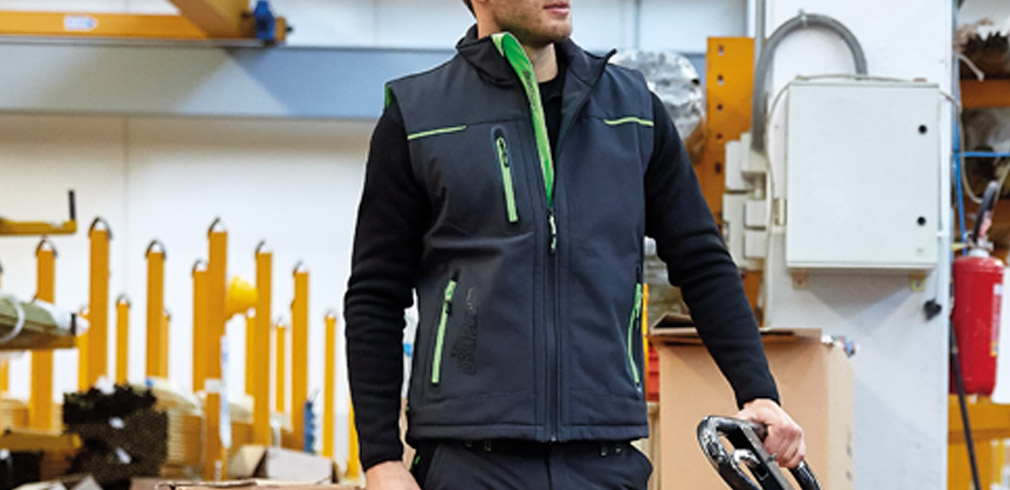 Again, we are talking about a unique combination of materials: the outer layer of the U-Tex elastic membrane and internally soft softshell, for optimal comfort and heat preservation, as well as waterproofing, breathability and wind protection.
It is a gilet with a very comfortable and wear-resistant shaped hem, fluorescent inner lining, and waterproof central zip.
The reflective inserts and tape on the collar ensure maximum visibility.
UNIVERSE has two front pockets with adjustable anti-tangle drawstring inside and fluorescent zip. The cell phone pocket, also with a fluorescent zip, is on the chest and equipped with Free Sound technology. The gilet has two further large inner pockets.
This model is enriched by the the tone-on-tone U-POWER logo and is available in Black Carbon and Deep Blue colour.
Finally, let's talk about the WORLD work trouser: the summer version of the ATOM trouser in the PERFORMANCE range. It is very fresh, light, and comfortable thanks to the U-4 way stretch fabric that allows you unrestricted movement.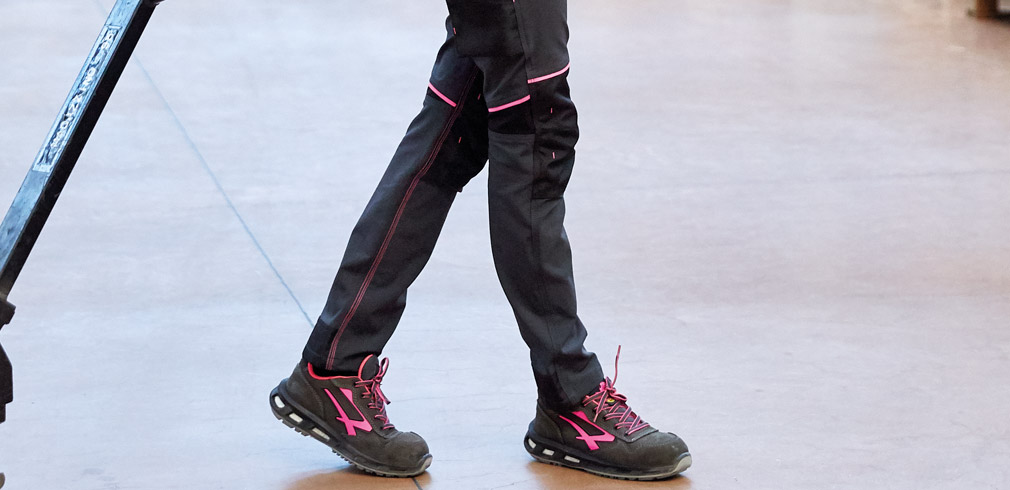 It is resistant, soft on the skin, water-repellent, quick-drying and ensures optimal breathability.
The design of the model ensures maximum functionality and safety. It has an elasticated waistband with an innovative retractable adjustment system and two rear expanding pockets offset from the outside leg to ease of use even when wearing a safety harness or heavy jacket.
The accentuated rear yoke offers excellent lumbar protection and higher comfort, while the reflective profiles, front and back, and the reflective tape on the rear tubular loop give visibility even in adverse weather conditions.
A fly pocket flanks the tool holder side pocket with pen holder insert, concealed badge holder, and internal smartphone pocket with an additional zip pocket to have everything at hand. To these, we added two more front pockets.
The triple stitching and the use of resistant 600D poly oxford fabric at the heel ensures Strong resistance.
The WORLD trousers are available in three colours:
✔ Asphalt grey;
✔ Deep blue;
✔ Black carbon.

For your next safety clothing purchase, play it safe. Choose U-POWER!
U-POWER: Quality, Technology, and Innovation.
Watch the video to learn more!
Dear reader, we hope you enjoyed the article.
If you want to deepen the subject and want more information, do not hesitate to contact us using the form below. Our technical staff will be happy to answer to your questions as soon as possible.
You ask, U-POWER, answer!