SUMMER WORK TROUSERS: ALL THE U-POWER NEWS!
DISCOVER THE ADVANTAGES OF WEARING QUALITY PROFESSIONAL WORKWEAR
Work trousers, also called technical trousers or professional work trousers, are safety clothing item.
Their use has a function of protection, confort and greater practicality.
Why is it important to use professional work trousers rather than everyday trousers? What are the characteristics that differentiate them?
Behind a work suit, there is a study attentive to the needs of the worker. Not all jobs are equal, and the requirements change. For this, there are models more suitable for certain professions than others.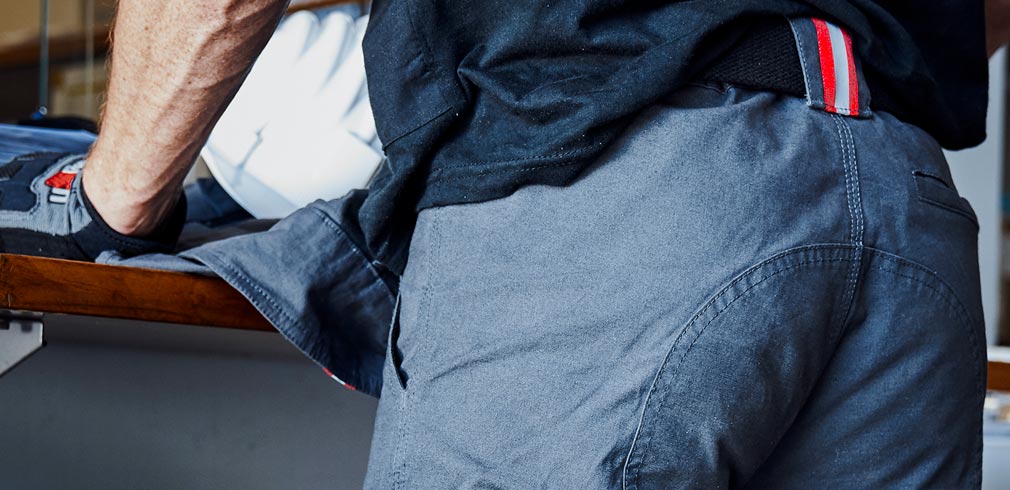 A good pair of work trousers must have some essential characteristics, such as protection (the materials used, the presence of reinforcements in specific areas); comfort (provided by fabrics quality, the cut and the line, the technologies used; practicality: (for example the presence of multifunctional pockets and small technical devices) and, finally, robustness (also, in this case, fabrics quality and the use of appropriate technologies.
That's why work trousers are indispensable when you work on the building site, in construction, the factory or workshop, and in the field of agriculture and gardening, for the plumber and the electrician.
U-POWER offers you a wide range of summer work trousers and shorts, which can help you improve your comfort by ensuring all the safety features required for safety clothing.
Technical trousers are incredibly suitable for all those professions that often require repeat movements, push-ups and bendings to test the worker with constant physical efforts.
In these cases, the elasticity of the fabric is of high importance and responds to a need for comfort; it also responds to a protective function because, if you feel comfortable in the clothes you wear, without stress and impediments, you can remain more focused and attentive to what you do.
U-4 Way stretch is a technical fabric that responds to the need for comfort, functionality and resistance of this particular type of situation.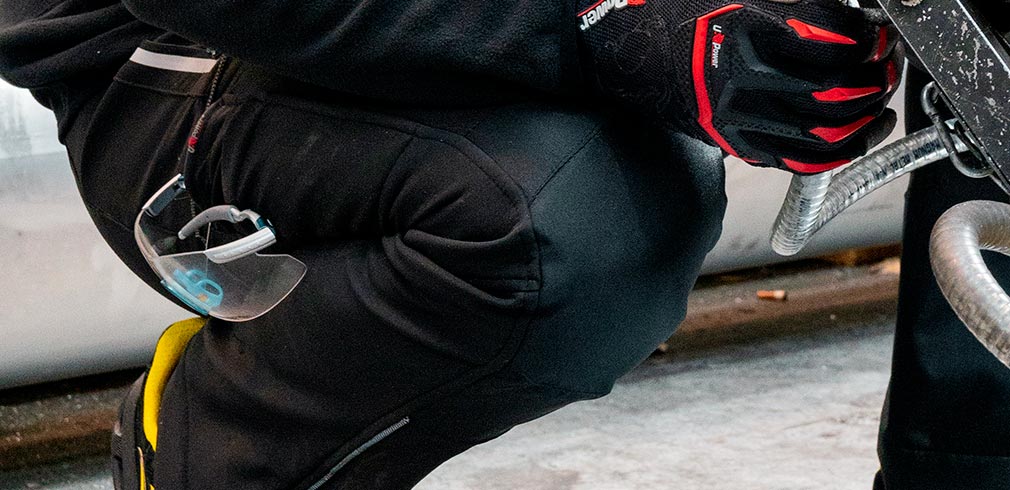 It is a high stretch fabric (14% Elastan), extremely comfortable and resistant to wear, tears, abrasions, and excellent chemical resistance.
The water-repellent treatment protects against external humidity and rain typical of the spring season (but also in case of a summer storm!) because the fabric does not absorb water and dries quickly, even after multiple washes.
The double weave texture avoids complete contact with the skin, which guarantees increased comfort and excellent breathability, ensuring proper wind protection.
The WORLD work trousers of the FUTURE line in U-4 Way Stretch fabric thus become the technical trousers par excellence. The material moves in four directions simultaneously, with excellent elasticity, without hindering movements, just like a second skin!
But, as we have seen before, there is another fundamental characteristic required for work trousers: functionality.
It is easy to say "pockets"; however, the small details can make a big difference. The back pockets of the WORLD trousers, for example, are slightly offset towards the outside of the leg to allow easier access for the hand even if you have to wear a fall-arrest harness.
A significant foresight of the attention that U-POWER pays in the design of its work clothes!
Also, they have bellows to increase the capacity and have a protective closure by way of a flap and a Velcro closure the second.
And, of course, the model is equipped with numerous other pockets: side, front, multifunctional, tool holder and concealed badge holder, all convenient and spacious.
Another crucial technical detail is the waist adjustment with an innovative retractable system to optimize the fit and increase safety. At the same time, the accentuated rear yoke provides more excellent protection of the lumbar area.
WORLD is available in three colour variations and perfectly matches the UNIVERSE four seasons vest.
Work trousers are continuously under test: they are stressed by movement, rubbing, perhaps by contact with oil and greasy substances or chemicals, etc.
So, it is necessary to use robust and synthetic fabrics (to ensure comfort) and additional protection where appropriate.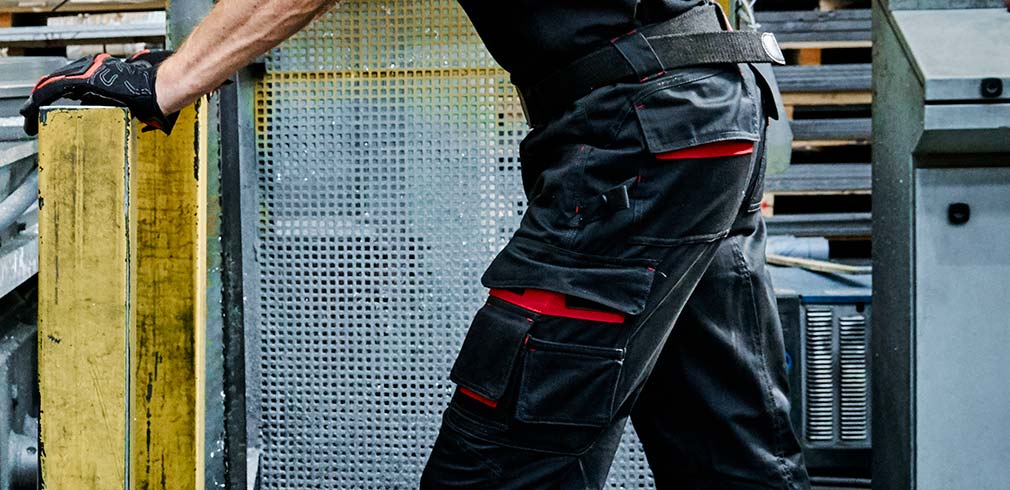 NIMBLE of the DON'T WORRY line is a perfect example of resistant yet fresh and comfortable work trousers, the ideal summer work trousers.
The Twill polycotton fabric is a combined material consisting of cotton and polyester, extremely durable, breathable and soft.
The predominant cotton percentage (60%) ensures the fabric's high quality - cotton is hypoallergenic! – whilst the presence of synthetic fibres increases their strength and elasticity.
On the areas of most important contact, the model has anti-wear reinforcements:
✔ At the height of the knee pad pockets;
✔ On the inside of the leg around the crotch down to the knees;
✔ With reinforcement supports for velcro;
✔ Triple stitching.

Numerous pockets ensure the functionality of the trousers:
✔ Two large front pockets;
✔ A side tool pocket;
✔ A multifunctional side pocket;
✔ Badge holder;
✔ Two back pockets with flap and velcro closure;
✔ Two kneepad pockets;
✔ Adjustable hammer loop.
NIMBLE is the ideal model of man summer work trouser for the carpenter, electrician, plumber, engineers and fitters, the mechanic and bricklayers.
These summer work trousers for man are available in three colour variations: Deep Blue, Stone Grey and Grey Meteorite.
Cotton is the undisputed king of natural fibres.
Choosing cotton work trousers, especially in summer, is a guarantee of freshness, comfort and breathability.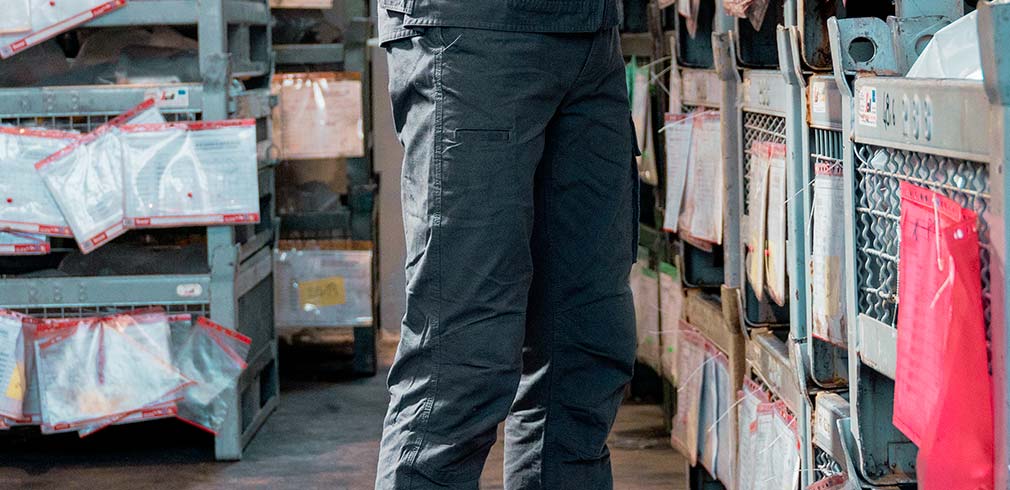 Cotton has many advantages. They are:
✔ breathable: dispersing body heat, ensuring a pleasant feeling of freshness and well-being;
✔ hypoallergenic: it minimizes the risk of allergic skin contact reactions;
✔ hygroscopic: effectively absorbs both water and sweat, leaving the skin fresh and dry;
✔ resistant: and durable, but it is also soft to the touch and comfortable to handle;
✔ light and easy to maintain: it does not require special care washing and dries quickly.
That's why OCEAN of the ENJOY line is the ideal model of stretch summer work trousers with 97% cotton + 3% spandex!
Its slim-fit with a sporty look makes these work trousers extremely fashionable.
They have:
✔ Two large front pockets;
✔ A back pocket;
✔ A multipurpose side pocket;
✔ A small pocket on the right leg;
✔ Front zip closure and anti-scratch button;
✔ Double reinforcement fabric on the knees and the back.
We recommend you summer work trousers for the Construction and Building Sector, on-site and Transport and Logistics.
A highly debated topic in the summer months on construction sites is the allowed work clothing when workers complain about heat and sweating problems due to high temperatures, heat and sun rays.
In reality, the Occupational Safety Regulations do not provide for any derogation due to climatic factors. When necessary, the obligation to wear personal protective equipment (PPE) - for example, if you have to work on a scaffolding - must be respected.
However, if the work to carry out does not require a PPE requirement (not always, and not everyone works on scaffolding), and the employer allows it, you can safely use shorts and Bermuda shorts.
U-POWER offers different models of shorts ideal on hot days.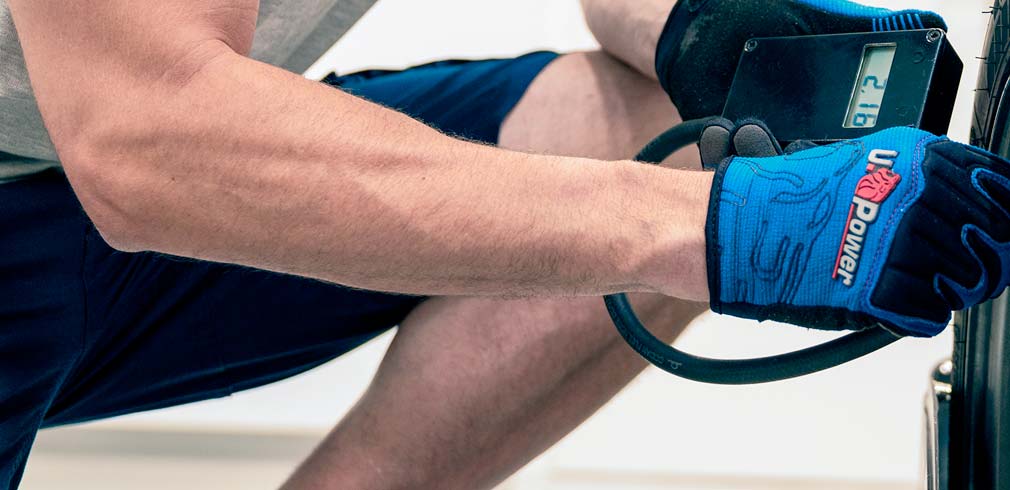 SUMMER is the sporty Bermuda Cargo, also perfect for leisure time, in stretch cotton canvas with triple stitching, closure with front zip and scratch-resistant button.
It is a very fresh and light Bermuda but at the same time durable, with double reinforcement fabric on the back and numerous pockets: two front, one back with velcro and two large side pockets.
It combines with the WAVE vest and is perfect not only for the construction site (when allowed) and for gardening, for the electrician, the plumber and carpenters in general.
Whatever work you do, excellent work trousers will improve your day. Make the right choice; choose U-POWER workwear!

U-POWER, Technology and Quality at the service of the worker.

Watch the video to learn more!
Dear reader, we hope you enjoyed the article.
If you want to deepen the subject and want more information, do not hesitate to contact us using the form below. Our technical staff will be happy to answer to your questions as soon as possible.
You ask, U-POWER, answer!