HOW OFTEN SHOULD SAFETY SHOES BE REPLACED?
CHOOSING THE RIGHT SHOE AND REPLACING IT WHEN IT IS TIME
Changing safety shoes is a question of effectiveness!
The professional safety shoes which we wear every day while we are working need to protect our feet from impacts and injury, stop us from slipping and make it more comfortable standing on our feet for hours on end, helping to keep the bones and muscles in our back in good shape.
Since work shoes need to fulfil these important tasks, we cannot allow them to become ineffective due to poor quality or because they have become worn over time. To make sure you have top-quality safety shoes, as you know, you can always count on U-Power, your partner for safety, but today we want to talk specifically about how professional shoes become worn over time and when they need to be replaced.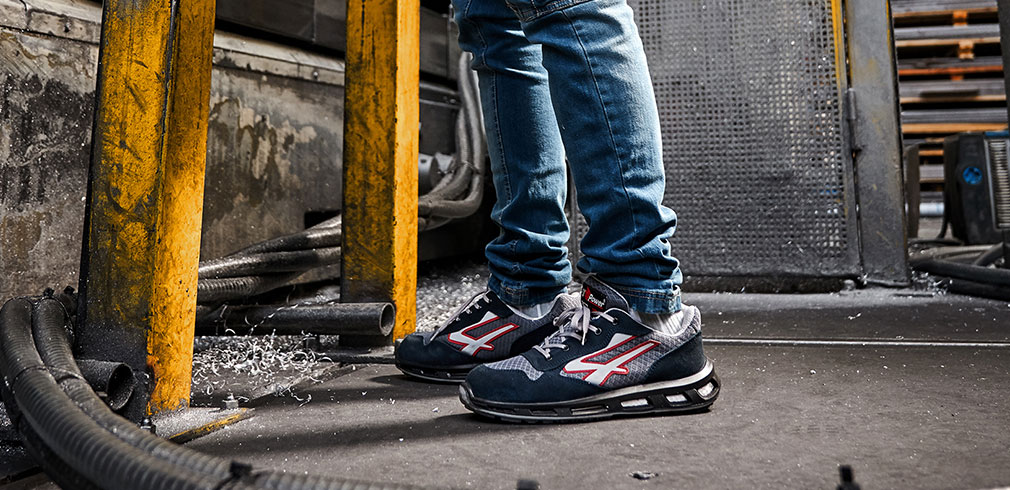 To make sure that you always have maximum protection from your safety shoes, we have two simple recommendations: choose a quality shoe that is suitable for the work you do and then, replace it when the time is right.
OK, but when is the best time to replace your work shoes? We will attempt to give you some pointers in this article and we will also give you some suggestions on how to choose your next U-Power safety shoes.
Let's take a look together at some suggestions on replacing safety shoes.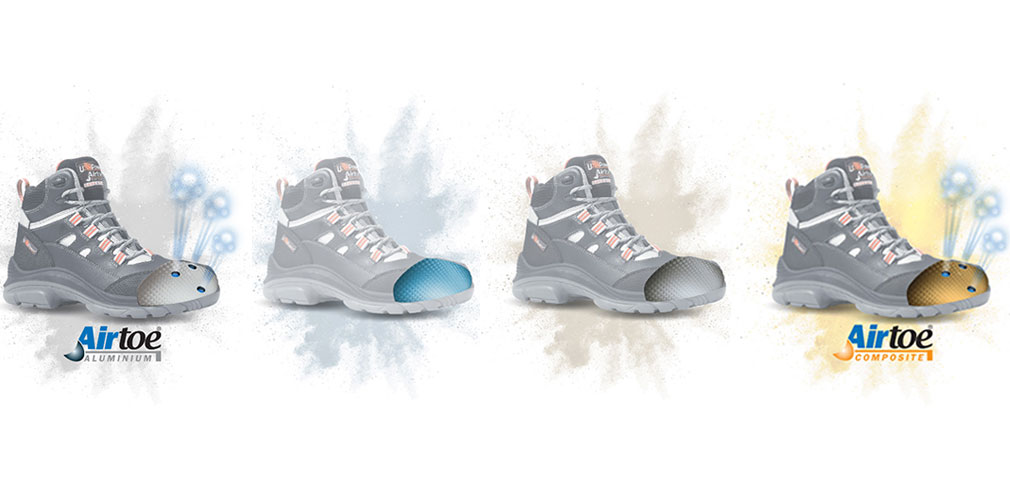 Firstly, let's look at which are the parts of a work shoe that ensure its effectiveness in protecting your foot during the working day. We need to be sure that all these elements are functional when we wear the shoes and obviously, we need to replace them even if just one of them is no longer effective.
Firstly, there is the reinforced toe cap, made of metal or another material, which is used in many safety shoes and protects the toes from the impact of a heavy weight that could fall on the shoe or any other type of force that could crush it. It is important to know that this element no longer functions properly after being deformed once and so, if the toe cap of your safety shoe has been subjected to a serious impact, it is time to change your shoes!
Another very important element is the non-slip sole which, with its special design, offers different degrees of stability and safety depending on the model. If the sole is cut or very worn, it can no longer guarantee you stability on slippery surfaces on which you may be working and so, your shoe must definitely be replaced.
Both the upper and rear reinforcement lug are designed to keep the foot stable and protect it from all types of injury. Here again, if these elements are worn, then the time has come to purchase a new pair of work shoes to ensure maximum protection.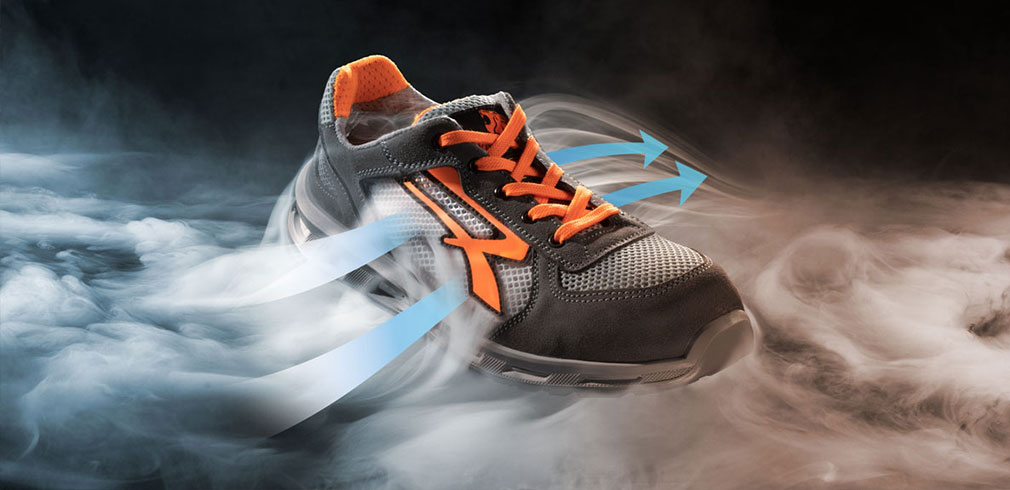 Why use the same safety shoes all year round? Given that their purpose is to make your working days less arduous, it makes sense to think that the same shoe cannot be as comfortable both when it is cold in winter and hot in summer.
Which is why here in U-Power, we always recommend replacing work shoes when the season changes, opting for models which are more suitable for the climate in which you need to work. For example, for the upcoming summer season, we propose some specific products, such as ULTRA from the RED LION range, with the upper in ultra-breathable mesh, or the practical and sturdy AERATOR, RADIAL and RIO models from the RED INDUSTRY range with the upper in suede leather with mesh inserts.
There are also summer models featured in the new RED 360 range, such as SPECTER, a low-top work shoe with a toe cap in aluminium or another material, non-slip sole and upper in Airnet and suede leather with mesh inserts.
By alternating between winter and summer work shoes depending on the seasons, you will always enjoy maximum comfort and be sure to have high-performance work shoes at all times.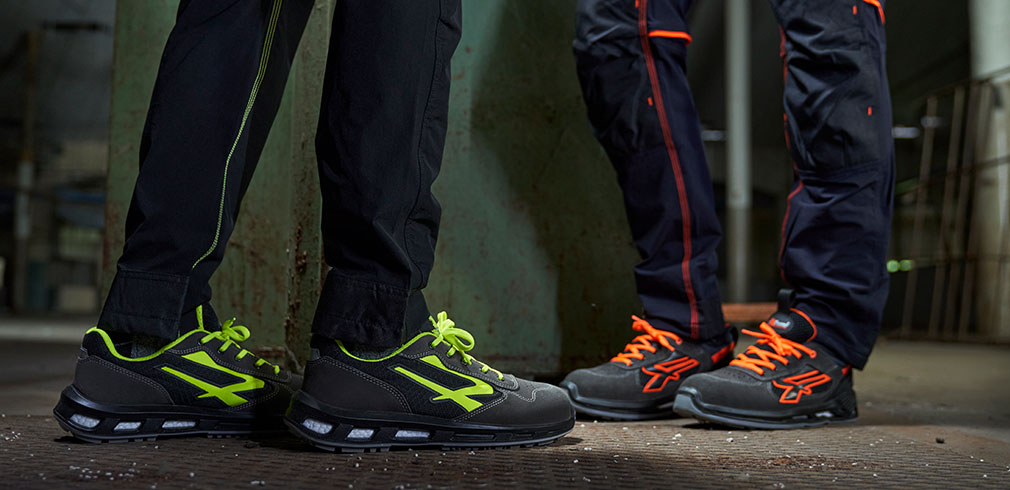 So, you are going to say, when should I throw my old pair of safety shoes away, which had become so comfortable, and buy a new pair? Firstly, we would like to point out that if your work shoes hurt your feet when they are new, perhaps you didn't buy a good quality pair or didn't choose the ones best suited to you and your type of work.
Having said this, however, the question remains: when should I change my work shoes? There is a general rule of thumb that they should be changed every six months, but, as we have attempted to explain in this article, there are many factors to consider. For example, the wear of different parts or the fact that the shoes have been subjected to major impacts could have affected them from a safety point of view.
An idea could be to buy a new pair of safety shoes every six months, unless specific events require you to replace them earlier, in line with the change in season, so that you always have the best work shoes for the climate in that period and the best degree of safety.
Don't forget that you can always consult U-Power for advice on personal protective equipment too!
Dear reader, we hope you enjoyed the article.
If you want to deepen the subject and want more information, do not hesitate to contact us using the form below. Our technical staff will be happy to answer to your questions as soon as possible.
You ask, U-POWER, answer!