INNOVATIVE TECHNICAL FABRICS FOR ERGONOMIC WORK CLOTHES
TECHNICAL WORK CLOTHES TO IMPROVE COMFORT AND PERFORMANCE
U-Power is always attentive to the needs of workers and the latest trends, both in terms of innovation, technology and style, placing itself alongside workers to offer clothing ranges intended to prevent and protect against potential health and safety risks.
When we talk about ergonomic clothing, we refer to work clothes designed to respond to physical and mental needs that favour healthy behaviour patterns that turn into constant habits that can progressively reduce risk factors at work.
How? Let's take a look!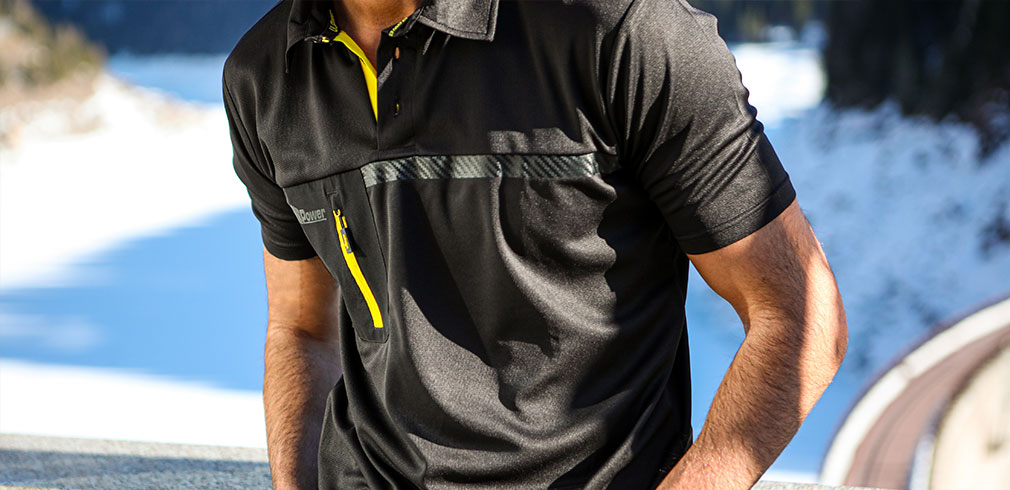 How do work clothes affect work performance?
We analysed the theme with Dr Michele Montagna: kinesiologist and posturologist, Professor in Motor Sciences, Professor of Ergonomics, Prevention and Treatment of Musculoskeletal Disorders at Work; Certified Trainer of Health and Safety at Work.
What are the elements that can interfere with the well-being of the worker and, consequently, put them at greater risk during the performance of their duties? How can work clothes help us reduce these risks?
Let's examine the issue in detail.
Let's find out how technology and design can improve comfort and safety.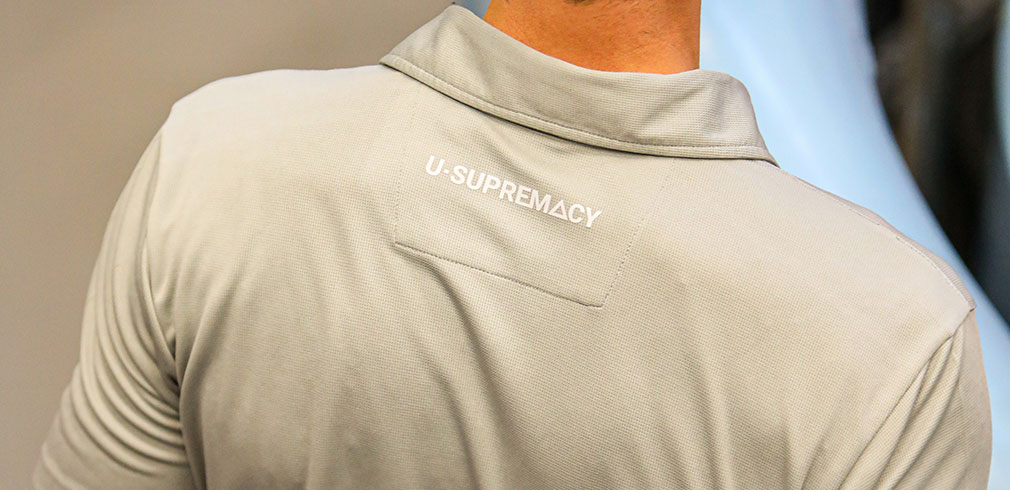 The physical and mental factors to which we are constantly subjected to can condition our perceptions and our peace of mind influencing work and our safety performing it.
These – potentially harmful – elements are many if we consider the internal biological factors related to body and mind and the external physical, organisational and environmental ones (temperature, humidity, wind, climatic conditions, etc.). These risks increase even more if we also take into consideration the relational ones, in relationships with colleagues, for example.
The worker's safety and well-being are always the priority for U-Power, and this also means enhancing the aesthetic aspect and taking into account the cognitive-behavioural maps that induce the sense of self-affirmation, reinforcing self-esteem and awareness.
A greater awareness at work means working safely. To support these considerations, we are met by the Osteopathic Biopsychosocial model that considers the Human Being as the result of experiences lived through the body, thoughts and emotions, within the relational world.
It is a multifactorial interaction that involves different biological, social and psychological factors to which we are all subjected.
It is precisely in this perspective that attention to workwear suitable for leisure time can help us, but not only!
Technology, able to improve comfort and well-being, as well as attention to eco-sustainability and the use of fabrics that respect the environment, can improve our physical and psychological perceptions.
The U-Supremacy range by U-Power, has been enriched with new proposals with the aim of responding to these needs, using highly innovative fabrics able to offer high comfort and respect for the environment. We are talking about Polartec Eco-engineering fabrics and the HeiQ Pure technology and HeiQ Smart Temp.
Let's see how!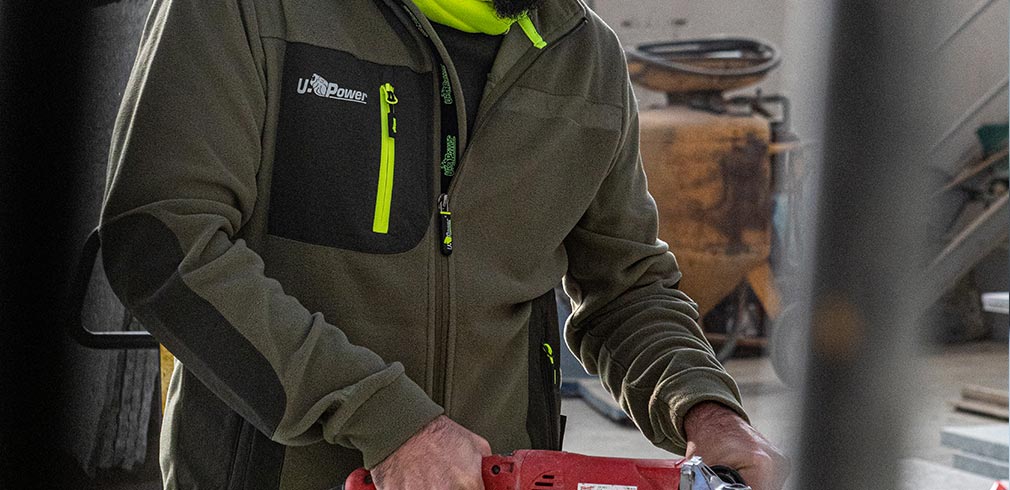 The use of eco-sustainable materials is not only a trend but a very specific need to which U-Power responds with punctuality and firmness. Examples are the safety footwear range of the Red Industry Green totally Carbon Neutral and CO2 compensation projects, such as the use of recycled fabrics used, for example in the production of Romeo and Tommi work jeans.

It is with this in mind that the U-Supremacy range is enriched with an new zip up sweatshirt in Polartec Eco-engineering fabric totally green.
It is a high-performance microfleece fabric obtained entirely from recycled material, following a logic of control of production processes to reduce the environmental impact recognized by Oeko-Tex, Bluesign, Higg Index and Charter Members.
The Polartec Eco-engineering microfleece used in the VENUS sweatshirt is a technologically advanced fabric ideal for work clothes intended for all workers who perform their duties in uncertain climatic conditions due to temperature, humidity, ventilation and which guarantees:
✔ Heat and breathability.
✔ Durability and lightness.
✔ Comfort and resistance.
✔ Quick drying.
VENUS is a sweatshirt without a hood, warm and soft, able to maintain body heat even in cold temperatures. The Spandex fabric ensures a comfortable fit and excellent freedom of movement of the humeral shoulder girdle (shoulders) and the back-lumbar section, allowing unhindered movements that facilitate blood circulation.
The cuffs and the windproof high collar make this full-zip sweatshirt very versatile, while the 3 reinforced zip pockets for prolonged use, allow you to release your hands when needed, to work safely.
In addition, VENUS is equipped with elastic reinforcements on the forearms that promote joint mobility even when assuming disadvantageous work postures, but we can say that it is a perfect work sweatshirt also suitable for leisure.
The Polartec Eco-Engineering fabric is not the only novelty: the U-Supremacy line is enriched by two new technologies used in LIBRA work polos and in the CHRISTAL men's T-Shirt.
We are talking about HeiQ Pure technology and HeiQ Smart Temp.
The workwear fabrics are treated with HeiQ Pure antimicrobial technology - a guaranteed treatment for the entire life of the product! – they are healthier because they actively resist the proliferation of microbes and germs responsible for stains and bad odours.
U-Power uses HeiQ Pure technology to offer workers T-Shirts and work polo shirts that maintain healthy biochemical balance in the body of those who work, with a particular focus on breathability and cleanliness factors.
The HeiQ Smart Temp technology, on the other hand, consists of a fabric treatment that offers a 25% faster thermoregulation because it exploits bio-physical principles driven by the interaction between excess body heat and the properties attributed to the fibre treated with a hydro-functional polymer that allows to lower the temperature only when it becomes physiologically necessary.
Essentially, when body heat is excessive, HeiQ Smart Temp integrates the body's natural thermoregulation process, just like a second skin, to achieve an enhanced evaporative cooling effect.
This means a greater feeling of freshness, comfort and greater well-being, without altering the characteristics of warmth, sensation on the skin and breathability of the fabric.
LIBRA is the men's polo shirt with HeiQ technology that allows you to work with maximum comfort and is extremely versatile to wear in every season, even under a sweatshirt, and with an unmistakable style.
And if you prefer a T-Shirt to a polo shirt, you can enjoy the advantages of HeiQ technologies by wearing the CHRISTAL model.
U-Power thinks of your peace of mind... word of Michele Montagna!
Don't Worry, be happy…with U-Power
Dear reader, we hope you enjoyed the article.
If you want to deepen the subject and want more information, do not hesitate to contact us using the form below. Our technical staff will be happy to answer to your questions as soon as possible.
You ask, U-POWER, answer!