FEEL LIKE WEARING CASUAL WORK CLOTHES? U-POWER HAS GOT YOU COVERED
THE NEW CASUAL U-POWER WORKWEAR IS HERE
Wearing work clothes designed to meet the need for protection and functionality does not mean having to give up style and design.
Many workers often have jobs in which they do not only carry out practical work but also have to take part in company meetings or visit customers, or they simply want to dress according to their own style, while respecting practicality and comfort at work.
To respond to this type of need, U-Power enriched its clothing ranges with new garments suitable for both work and leisure.
Let's take a look at them together!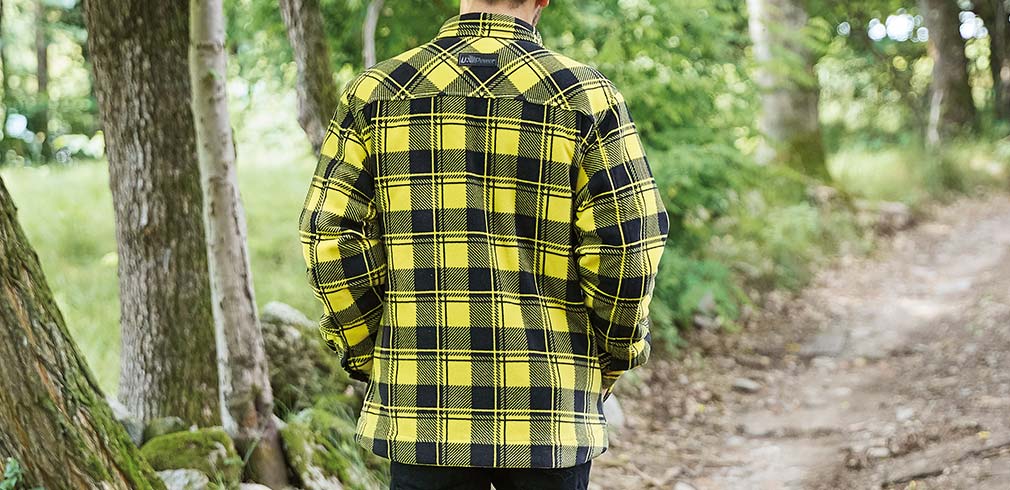 U-Power's new casual workwear was created with a clear objective: to offer workwear that respect style and design, following fashion trends.
U-Power offers garments with an informal look designed to meet the need for protection, comfort and functionality required at work and which, at the same time, are casual and also suitable for free time.
Denim, flannel and recycled fabrics are the protagonists of the line.
Let's take a closer look at the styles!
Read the article and discover the features of the new U-Power work shirts!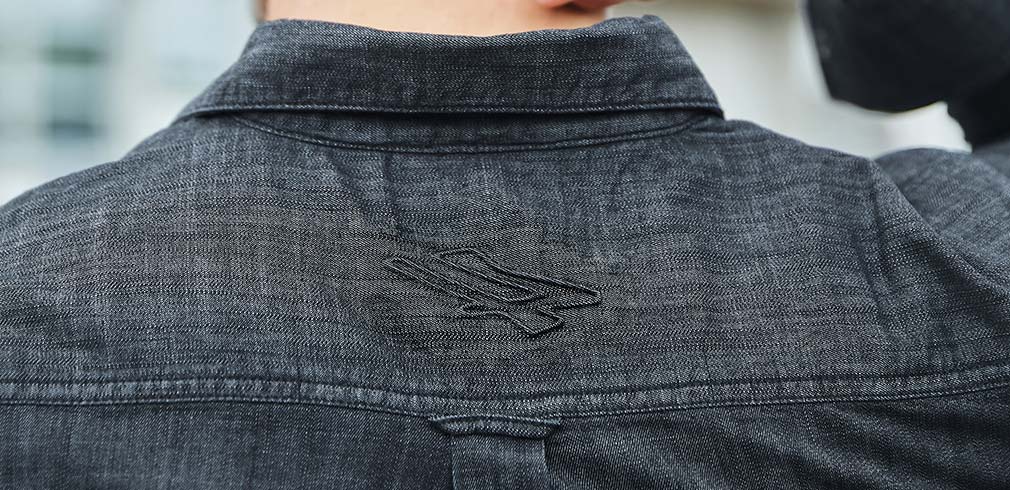 The Exciting range by U-Power is enriched with new casual and informal work clothes.
Workwear designed to offer an informal style that follows fashion trends without forgetting about the need for comfort, functionality and safety at work.
The styles presented are rich in details and designed to offer maximum comfort with high quality fabrics and with an eye to sustainability.
And with the new offers, U-Power clothing is enriched with an article that was previously absent from its product range: the work shirt.
The work shirt is a very versatile item of clothing, suitable to be worn alone or under a long-sleeved polo shirt, a sweatshirt, overalls or a jacket, depending on the season or the specific needs.
In addition to this, a shirt is the best solution when the worker has to go from carrying out practical work to meeting customers or taking part in a company meeting.
It is precisely on these new work shirts that we would like to focus on in this article, to present the two new articles: the denim shirt and the flannel shirt, particularly suitable for this season.
Let's take a closer look at them!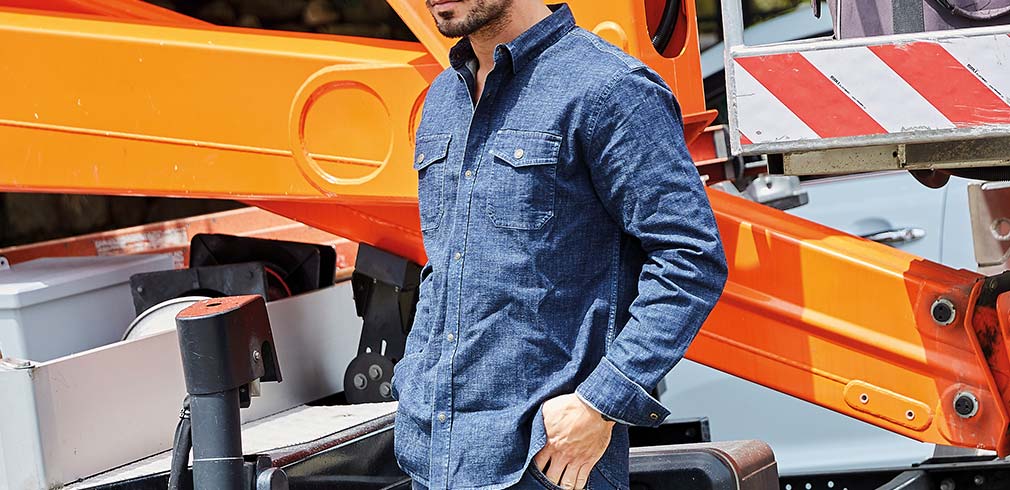 Maple is the brand new U-Power men's denim shirt, for work and leisure. It is a must-have item of clothing for those who like a casual an informal style.
It can be easily matched with any type of work trousers and also with work jeans for an all-denim look.
This regular-fit men's casual shirt is available in two different colours: black denim shirt in the Black Carbon version and blue shirt in the Guado Jeans version.
One of the main features of this model, made of 100% cotton, is the use of recycled fabric (20%) obtained from the use of processing waste and the reuse of fabrics, making Maple a sustainable shirt that contributes to the protection of the environment.
Maple is a work shirt with an Italian-style collar and two-button cuffs.
The buttons – all snap fasteners – are customised with the engraved U-Power logo to give your work shirt its own personality and recall the traditional casual style of denim clothing.
The two pockets with flaps and snap fasteners on the front allow you to keep what you need close at hand. The additional pocket on the left side with a pen slot is particularly practical and functional when you need to take notes.
The back features a central crease that runs all the way down the shirt and a decoration with the U-Power logo.
The design is completed by the shaped hem and the U-Power logo on both the label inside the shirt and on the side.
Let's now take a look at the features of the flannel shirt.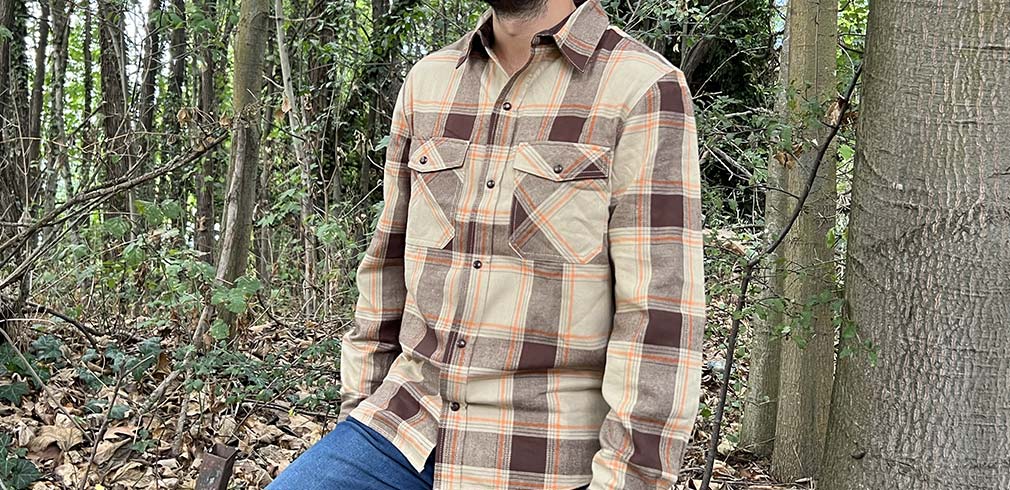 Unlike Maple, which is a plain shirt, Cedar is a men's checked shirt with an English check pattern.
It is a flannel shirt, a work shirt for winter and autumn that is warm and soft on the skin.
A very important detail for maintaining warmth is the presence on the inside of the collar and cuffs in corduroy reinforcements which, in addition to making the areas most subject to stress more resistant, reduces heat loss and helps maintain an ideal microclimate.
Cedar is a Scottish flannel shirt with a shaped hem and two front pockets with flaps with contrasting corduroy and with snap fasteners.
The back of the shirt features a central crease that runs all the way down the shirt and jacquard tape sewn at the ends, which also serves as a hanger loop.
Finally, this comfortable and warm work shirt features a label on the bottom with the U-Power logo.
Cedar is available in three different colours:
✔ Westlake Blue;
✔ Dark Green;
✔ Chocolate Brown.
Discover the comfort and quality of the new U-Power shirts and wear them at work, to go out with friends and whenever you want!
U-Power: safety shoes and workwear and... clothing for your free time!
Dear reader, we hope you enjoyed the article.
If you want to deepen the subject and want more information, do not hesitate to contact us using the form below. Our technical staff will be happy to answer to your questions as soon as possible.
You ask, U-POWER, answer!